Mumbai, August 30, 2018: GVK Mumbai International Airport Limited (MIAL), the company that administers the Chhatrapati Shivaji International Airport (CSIA) inducts first of its kind Advanced Passenger Evacuation Vehicle for rescuing stranded personnel from inaccessible areas of aircrafts. The vehicle covers all types of aircraft currently used in the Aviation industry, including A380 which is the biggest civilian aircraft available today.
This highly developed vehicle will be used for rescuing stranded personnel, wherein conventional alighting systems cannot be employed. In the unlikely event of an aircraft veering away from its normal path, this equipment can be rushed to the spot and the attached ladder can be extended up to aircraft door for passengers or crew to be safely evacuated.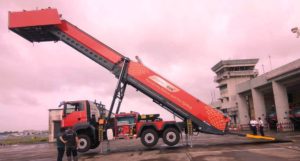 This ladder can be extended up to a maximum height of 8.3 meters. The escape stairs have high evacuation load capacity of approximately 115 people at one time. This machine is equipped with an engine of 540 HP which will give an acceleration of 0-80 km per hour in less than 40 seconds which is one of the fastest in this category. The vehicle is fitted with high pressure smoke ventilation system which can remove smoke from fuselage/ cockpit and increase chances of surviving. This highly developed machine can also reach off-road surfaces with 6X6 wheel drive system on single wheel configuration.
GVK MIAL's efforts have constantly been focused towards placing CSIA amongst the world's best airports. The evolution brought through CSIA with respect to services, functionality and operations personifies into a dynamic travel companion that its stakeholders cherish having on their side.  
About GVK MIAL
GVK  Mumbai  International Airport  Pvt. Ltd (MIAL)  is  a  Public Private Partnership  joint  venture  between a GVK-led  consortium  and the Airports Authority of India (AAI).  GVK MIAL was awarded the mandate for operating and modernizing Chhatrapati Shivaji International Airport, Mumbai (CSIA). Through this transformational initiative, GVK MIAL aims to make CSIA one of the world's best airports, which consistently delights customers besides being the pride of Mumbai. The new integrated Terminal 2 at CSIA enhances the airport's capacity to service 40 million passengers and one million tons of cargo annually.