KOLKATA – July 14, 2014 – Mercom Capital Group, llc, a global clean energy communications and consulting firm, released its report today on second quarter funding and mergers and acquisitions (M&A) activity for the solar sector in 2014.
Total global corporate funding in the solar sector, including venture capital (VC), private equity (PE), debt financing, and public market financing raised by public companies, came in at $6.3 billion, compared to $7 billion in Q1 2014. This quarter also saw two IPO's including one yieldco and a securitization deal.
Raj Prabhu, CEO of Mercom Capital Group, commented, "It was a solid quarter for the solar sector in terms of fundraising. VC funding was up, public markets remained strong and we are seeing new and innovative financial structures. Residential/commercial solar funds continue to raise record amounts."
VC
Global VC funding, including PE and corporate VC, in Q2 2014 totaled $432 million in 21 deals, up from $251 million in 26 deals in Q1 2014, mostly due to three large deals. Solar downstream companies attracted most of the VC funding this quarter, with $388 million in 10 deals.
The largest VC/PE deal in Q2 2014 was the $150 million raise by Sunrun, a provider of residential solar-power systems. Investors included Foundation Capital, Accel Partners, Sequoia Capital, Madrone Capital, and others. Sunnova Energy, a provider of residential solar services, raised $145 million. Other Top 5 deals included the $72.5 million raised by residential solar installer Sungevity, followed by Siva Power (formerly Solexant), a manufacturer of CIGS solar modules, which raised $15 million. Brite Energy Solar, a provider of residential and commercial solar services, raised $14.2 million.
Project Funding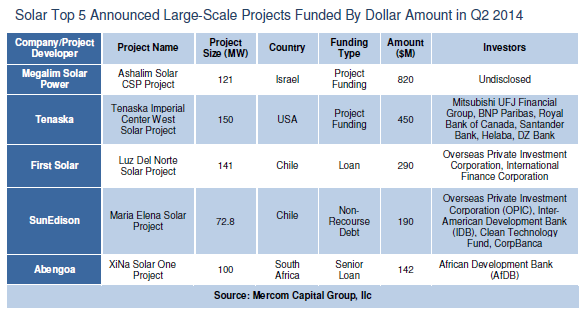 There were 33 large-scale project funding deals totaling $3.5 billion announced in Q2 2014. The Top 5 large-scale project funding deals in Q2 2014 included the $820 million raised by Megalim Solar Power for a 121 MW CSP project in Israel, Tenaska's $450 million raise for the development of the 150 MW Tenaska Imperial Center West solar project in California, the $290 million raise by First Solar for its 141 MW Luz del Norte solar project in Chile, the $190 million raise by SunEdison for the 72.8 MW Maria Elena solar project in Chile, and the $142 million raise by Abengoa for its 100 MW XiNa Solar One CSP project in South Africa.
Third-party Funds
Third-party residential and commercial solar funds continued to attract significant attention, with more than $1.3 billion raised in Q2 2014. SunPower topped the list, raising $492 million in three different funds. Investors included Google, Admirals Bank and Hannon Armstrong Sustainable Infrastructure Capital.
Corporate M&A
There were 25 corporate M&A transactions in the solar sector in Q2, down from 38 transactions in Q1 2014.  Solar downstream companies were involved in most of the M&A transactions with 11.
The largest disclosed M&A transaction by dollar amount was the $350 million acquisition of Silevo, a solar cell and PV module manufacturer, by SolarCity. This was followed by the $29 million acquisition of Zhejiang Ruixu Investment Company, a solar project development company and wholly-owned unit of ReneSola, by Jiangsu Akcome Solar Science & Technology Company. Jun Yang Solar Power Investments, an independent power producer, acquired the remaining 32.1 percent of Jun Yang Holdings, from Sun Reliant International, a wholly owned subsidiary of Hanergy Solar, for $14 million. RBI Solar, a provider of solar mounting systems, acquired Renusol, a subsidiary of CENTROSOLAR Group, for $3.5 million. Rounding out the Top 5 was the acquisition by Jinzhou Yangguang Energy, a wholly-owned unit of Solargiga Energy, of an additional 10 percent stake in PV module manufacturer Jinzhou Jinmao Photovoltaic Technology from Kinmac Holding, raising its stake to 96 percent, for $2.2 million.
Project Acquisitions
Project acquisitions in Q2 2014 totaled $229 million in 34 transactions with 1.1 GW changing hands. The top disclosed project acquisition by dollar amount was Foresight Solar Fund Limited's acquisition of SunEdison's 17.8 MW Castle Eaton solar project in Castle Eaton, UK, for $37.6 million. This was followed by the sale of the 19.5 MW Great Glemham solar project in Suffolk, UK, by BayWa to Allianz Renewable Energy Fund, an Allianz Capital Partners fund, for $35.7 million. Bluefield Solar Income Fund, an investment company focusing on large scale agricultural and industrial solar assets, acquired the 17.5 MW Hertfordshire solar projects from Solarcentury for $32.5 million, and ContourGlobal, an independent power producer, acquired a 5 MW solar portfolio in Italy from Sorgenia Solar for $27.5 million. Rounding out the Top 5 was another transaction from Foresight Solar Fund Limited, which acquired the 12.2 MW Highfields solar project in Essex, UK, for $26.3 million from SunEdison.
Mercom also tracked 150 large-scale project announcements worldwide in Q2 2014 representing 7.6 GW.
To learn more about the report, visit: Solar Q2 2014 Funding and M&A Report
About Mercom Capital Group
Mercom Capital Group, llc, is a global communications and research and consulting firm focused exclusively on clean energy and financial communications.  Mercom delivers widely read industry market intelligence reports covering Solar Energy, Wind Energy and Smart Grid.  Our reports provide timely industry happenings and ahead-of-the-curve analysis specifically for C-level decision making.  Mercom's consulting division advises cleantech companies on new market entry, custom market intelligence and overall strategic decision-making.  Mercom's communications division helps clean energy companies and financial institutions build powerful relationships with media, analysts, government decision-makers, local communities and strategic partners.  For more information about Mercom Capital Group, visit: http://www.mercomcapital.com.
Notable Indian transactions this quarter:
VC Funding
Simpa Networks, a distributed energy solutions provider, raised $2.2 million in funding.
AK Surya PowerMagic, a provider of solar-based irrigation services for farmers, raised ~$0.5 million in funding from Intellecap Impact Investment Network (Icube-N) and Infuse Ventures, IIM Ahmedabad's clean-tech focused fund.
Public Market Financing
Welspun Renewables Energy, a renewable energy project developer, announced that Asian Development Bank (ADB) purchased a 25 percent stake in the company for $50 million and DEG, the subsidiary of German government-owned development bank KfW, subscribed to the compulsory convertible debentures of the company, valued at ~$37 million, taking the total amount raised by the company to ~$88 million.
Project Funding
Welspun Renewables Energy (WREPL), a renewable energy project developer, raised $24 million from GE Energy Financial Services for a 151 MW solar PV project in the state of Madhya Pradesh.
CaptureSolar Energy, a solar project developer, raised $125 million from PG Concept, a Cyprus-based PV solutions provider, for a 75 MW solar PV project in Pune, Maharashtra.