New Delhi, 21st August 2018
MEDUSA SOURCE a supply chain management company is an associate company of Warp and Weft International which has been in the business of sourcing for international clients  like Macy's, Next, Bloomingdales, Laura Ashley etc and across multiple geographies like USA, Europe etc.
This tie up is significant as it enables Indian budding designers which are already present on the Medusa by Sonal Jindal platform to access international markets via Medusa Source.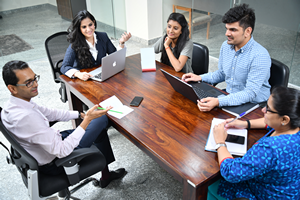 Medusa Source is looking at innovative products for their apparel and accessories product lines for international retailers.
As part of this partnership Medusa Source will be showcased at Medusa by Sonal Jindal a B2C fashion and lifestyle exhibition being held on 23rd August 2018 at New Delhi.
Sonal Jindal, Managing Partner of Medusa Source said, "This platform is a great opportunity for small and medium sized manufacturing companies/designers to offer their product ranges to Medusa Source's wide client network for international retail market.
Mr. Chetan Mathur, Managing Partner of Medusa Source said " We are always on the lookout for new and innovative products, hence we felt Medusa Fashion exhibition can provide us the variety of creative and innovative suppliers who can offer creative products at competitive process to our customers.