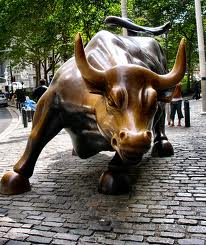 Monsoon Monday – green all around
The southwest monsoon has hit Mumbai bringing relief from the heat but adding the usual inconveniences with it. The markets are set to rejoice in the shower as global cues appear healthy.
US markets closed higher on Friday after the May jobs report pointed to an economy 'still in need of central bank support.' The Dow added 1.38% while Standard & Poor's 500 Index gained 1.28%. Nasdaq climbed 1.32%. Asian markets are also rejoicing. Nikkei has risen by 3%. Hong Kong's Hang Seng is flat and so is South Korea's Kospi index. The Dragon Boat Festival will keep Mainland Chinese markets closed till Wednesday.
On the political front, the Narendra Modi has been declared BJP's Arjuna in the 2014 Mahabharata even as Advani plays Dhirashtra and continues to sulk in New Delhi. Powerplays have begun all around as political parties and leaders begin maneuvering on the checkered board in the run-up to the 2014 Lok Sabha elections. Maratha Strongman and NCP leader Sharad Pawar initiated a rejig of his team by asking 20 NCP ministers to resign.
Key data to watch this week will be April industrial output data and May consumer price indexon Wednesday while Wholesale price index inflation for May will be out on Friday. The data will be crucial in steering the RBI's monetary policy review on June 17.
Slowdown concerns intensified in the world's second-largest economy as May trade data reflects a slowdown both in imports and exports.
French Minister Francois Hollande declared on Sunday while on his trip to Japan that the Eurozone crisis is over.
After getting the approval for Lipaglyn breakthrough, drug manufacturer Zydus Cadila on Sunday said it expects at least two molecules out of the 20 currently under discovery research programmes to become successful by 2020.
While export dependent businesses will cheer the slide of rupee, yet this weakness in the Indian currency will put pressure on an already worsening current account deficit situation as imports of oil get costlier. FIIs activity in the markets will heavily depend on the rupee movement in the days ahead.
The RBI is scheduled to unveil its first mid-quarter monetary policy review on June 17.
Trading idea (Time period: 1-3 days)
Tata Chemicals (BUY, above Rs307, Target Rs320, SL Rs300): Tata Chemicals has given an upside breakout after consolidating in rounding bottom formation which resembles bullish structure. Also, the stock has bounced back from its lower band support of Bollinger band. Breakout is also seen in daily RSI after formation of rounding bottom, this provide supplementary evidence of sustainable upmove in the counter and stock is likely to head towards Rs320 the medium term. (Duration 4 days)
Derivative strategies (Time period: Till expiry)
Long Lupin June Future above Rs765 for the Target price of Rs785 with a Stop loss placed at Rs755.
Lot size: 500
Remarks: Net maximum profit of Rs10,000 and net maximum loss of Rs5,000.
Corporate snippets
ONGC is in talks with Shell India, the onlyforeignplayer in India's fuel retailing space, for a possible tie-up with itself or MRPL, its subsidiary in the retail segment that also has a registered brand. (BS)
GMR Infrastructure said it wrote off Rs2.51bn when it madeimpairment of assets in its South Africa-based coal mine subsidiary Homeland Energy Group, and another Rs2.02bn after it was forced out of the Male airport project. (BS)
The Intellectual Property Appellate Board has issued an order to remove the trademark of Emami Ltd's memory booster product, Memoplus. The order upheld a petition from Chirayu Pharmaceuticals, which said it had registered theMemoplus trademark before Emami did. (BS)
Infosys board members BG Srinivas and Ashok Vemuri, who are in queue to succeed Chief Executive SD Shibulal when his term ends in early 2015, are learnt to be in serious discussions with a headhunter who has the mandate to find a CEO for iGate Corporation. (ET)
India's drug regulator has ordered inspection of the two manufacturing facilities of Ranbaxy Laboratories that were banned from exporting medicines to the US, the first formal action by the government after the drug maker pleaded guilty to criminal misconduct in that country. (ET)
Undaunted by the dramatic slowdown in demand for cars, Maruti Suzuki is going ahead with its expansion plans to foray into the light commercial vehicles market, while the Japanese parent wants it to develop the export markets in the Middle East, Africa and Southeast Asia, which requires capacity addition. (ET)
After making its 26th oil discovery in the Barmer block last month, Cairn India is now betting big on its oil and gas acreage in the onshore area of the Krishna Godavari basin. (ET)
The telecom regulator has warned Aircel, Reliance Communications and TataTeleservicesagainst allowing illegal telemarketers to send unwanted messages on their network. (BL)
Tech Mahindra is said to have bagged a US$20mn greenfield implementation deal from Surfline, one of thenewestentrants to Ghana's wireless broadband space. (BL)
Lenders plan to open a new 'recovery' front to realise their dues aggregating about Rs70bn from the defunct Kingfisher Airlines. They have authorised State Bank of India to file recovery suit against the airline in the debt recovery tribunal.(BL)
Economic Snippets
TermingSebi's actions as "harsh" against firms which could not meet public shareholding norms, industry body Assocham has said thenon-compliant companies should be given three more months to comply with the regulatory requirements. (BS)
The RBI and Sebi have opposed some key recommendations, such as allowing a review of all regulations by financial firms, of the Financial Sector Legislative Reforms Commission, saying they are ill-conceived and could undermine the authority of the regulators. (ET)
The much-awaited goods and services tax will only get implemented after the upcoming general elections, said Chairman of the Empowered Committee of State Finance Ministers and Bihar's Deputy Chief Minister Sushil Modi. (ET)
India's forex reserves fell by US$4.12bn in the week ended May 31, due to changes in currency valuations. The reserves stood at US$287.9bn, serving as a cushion against external shocks. (BL)