When a new age, progressive school plans its academic curriculum, it keeps in mind, more often than not, the holistic development of the student, the individual behind the label 'learner' and focuses on the moral grain of his/ hers. Even within this broad framework, there are variations, cultural, regional and sometimes individual. At GEMS International School, Palam Vihar, we of course, work towards ensuring  that we create an optimum environment where gaining knowledge is a self inspired process for the students. It does not stay contained within the parametres of the curriculum framework and the 'aspired for' yardstick of achievement is how much the students achieve and gain beyond this parameter.
Achieving and gaining beyond the curriculum framework is by no means  a parameter vague and undefined. There is the spark that the students can create on the playground, there is a skip they can add or miss to shine on the dance floor, there is a melody they can excel in in the music room, there is a point of view that can make them heard in the debating circles and they can be creators, inventors and artists and much more. This much more for us is how much, while on a quest towards constantly honing their skills and perfecting themselves, do they manage to help, uplift and cheer others.
This ennobling and meritorious action is not a 'task', nor is it a carrying out of a direction given by the School. It is a lead, a spark, a fire, and a desire that I have endeavoured to ignite in my students.  I am acutely aware that in this fast shrinking, self absorbed world where each one of us is busy in promoting oneself, and of course there is always social media handy to give a magnified voice to the 'I' in each one of us, it is by no means easy to walk this unbeaten path. I ensure that the students who choose to follow this unbeaten path get due recognition, are awarded with accolades and are projected as role models for their classmates.
Our students have lovingly taken under their wings the children in the underprivileged neighbourhood of Palam Vihar. They have a curriculum designed for them wherein they impart basic life skills, rudimentary Math and English to them. They are the most cherished participants in all the functions at School. They are, in fact, the stars of the shows. They light the inaugural lamps, are made to feel at par with all and we value the bonhomie and cheer that our students create around them. The students stay back after School and teach the students. And they don't do it because we ask them to, they do it because they want to. We are always there with our scaffolding, to help them with resources, curriculum and any guidance that they may require. We have serious plans to take this project, which we call 'Asha ki Kiran' forward and we hope to set up, after identifying their skills and their aptitude, vocational training unit for our valued neighbours, For us, the students associated with 'Asha ki Kiran', are already 'winners', whatever the rat race they may choose or life may choose for them.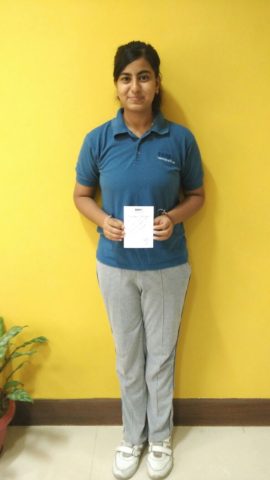 For the Summer Break, each School gives out a carefully designed 'Holiday Homework' and so did we. I announced in the morning Assembly a day before the School closed that each child would conscientiously attempt the Holiday homework, I was sure! I would love it if they did something really worthwhile as well, like helping someone in the holidays! While my teachers got to their utmost joy neatly done folders of homework , my joy knew no bounds when my students came to me to tell me that they had done my homework!! Helping is the most beautiful feeling they have realized themselves. I just had to provide the stimulus and ignite the beautiful feeling! Each day, a child walks up to me to tell me how they help others. The most beautiful feeling in the world is to be stopped in the corridors, sometimes by a tiny tot and sometimes by a teenager to tell me about their tryst with 'helping'. And it is as varied as spending the birthday at the Blind School, teaching the domestic help, helping Mom with daily chores or reading out the prayer book to the grandmother!! Each one of these children is appreciated and awarded. Not to attach the act with a tangible reward but to tell them that their actions are highly valued and they are the real role models.
The ethos of selfless service defines GEMS International School in a way! We spend each festival at Old Age Homes with the lonely and abandoned senior citizens and our children love to sing and dance for them! In Haryana state where we are placed, the sex ratio is tilted towards males as traditionally, the girl child has been unwanted. Our students not only took part in a Cross Country run to help save the Girl Child, they mobalized a massive community participation. They have visited neighbourhoood houses as a part of a very ambitious project 'Save the Earth' and helped the neighbouring community to devise ways in which they could save water. They even made them undertake a pledge that they would!  To start a charity fund with the money that children earn in our weekly organic market is in the pipeline!
Altruism in today's world has an impractical and improbable connotation. We aspire to ensure that our students think differently. They definitely know that a worthy life is a life which has been touched by selfless service and love. We know we have miles to go but we are determined that these intrinsic values will be cherished as much as marks that they score in their exams.
3