11 sprint drivers, one endurance team to compete in world summit of leisure karting after outstanding successes in Dubai Kartdrome season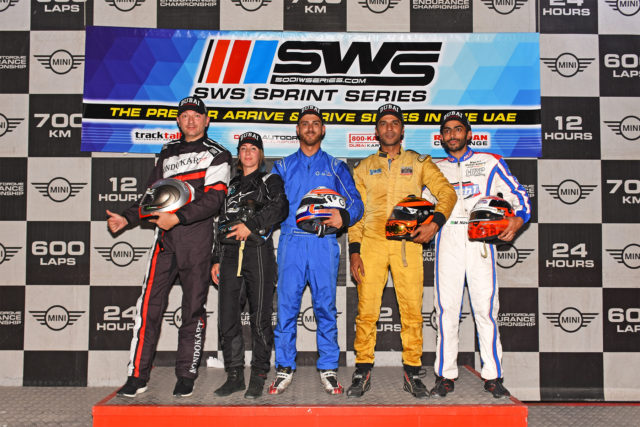 Dubai, UAE, 25 May 2017:  A collection of Dubai's best leisure kart drivers are travelling to Paris to prepare for the 2017 Sodi World Series (SWS) World Finals at Racing Kart Cormeilles from 25-27 May 2017.
The Sodi World Series (SWS) allows more than 40,000 drivers from all over the world to compete with each other throughout the year on each of the SWS official partner tracks in more than 50 countries.  Based on the SWS world ranking at the end of the season (31 December, 2016), the best drivers in each category qualify for the SODI World Finals.
The Dubai drivers will contest three categories of the world summit of leisure karting – the Junior Cup (11-14 years old), Sprint Cup (15 years and over) and the Endurance Cup (teams), all led by Team Manager David Bright from Dubai Kartdrome.
Alex Connor, Kamal Agha, Danny Shields and Patrick Debattista will challenge the SWS Junior Cup.  Conner is no stranger to the competition, having achieved pole position in two SWS World Finals and finishing an impressive third place last year.  Agha has experience with some heat wins last year, and if his current form in Rotax and SWS continues, he is set to be a serious contender in Paris.
This will be the first SWS World Finals for Shields and Debattista, and both drivers will be focused on learning as much as possible from the veterans.
Rami Azzam, Hussain Humid Ali, Maz Chungtai, Anjum Sheikh, Gianluca Elmosi, Dario Rubio and Ekaterina Kazakova will enter the SWS Sprint Cup.
Drivers Azzam, the 2016 SWS Dubai Kartdrome Champion, and Ali, the 2016 SWS UAE National Champion, will be favourites to challenge for the world title.
Azzam returns to Paris this year after settling for a heartbreak finish at twelfth in 2016 when a bump off track in the final race derailed his winning momentum.  With eight years of experience in the finals, with a series of heat wins and podiums, Ali is building up to take the big prize.
Seasoned SWS competitors, Sheikh and Chungtai are running on a hot streak from their season in Dubai and hope for a strong showing in Paris.
Elmosi, Rubio and Kazakova have worked their way up the SWS grid over the years and now all three are ready for their world debut on the big stage.  They will have plenty of support from experienced comrades and the Dubai Kartdrome Team Manager.
David Bright said: "It gives me great pleasure to lead this year's Dubai Kartdrome team of 11 sprint drivers to the SWS World Finals.  Last year, we were so close to doing the triple and winning all three categories.  In the Junior Cup we were leading the final with just a few laps to go and then finished third.  In the Sprint Cup we had a good chance to win, but suffered some back luck in the final."
Local racing team CG Racing, however, performed extremely well last year, upsetting the local European teams and winning the SWS Endurance Cup.  They return this year to defend their world title.
Added Bright: "In the end, CG Racing did us proud by winning the prestigious SWS World Endurance Championship.  This year, we are returning to Paris with one goal—winning the triple crown of all three categories!"
1