Gurugram:   LIKE App, the leading video application equipped with the state-of-the-art technology, announced the release of its EDM (electronic dance music) filter setting and 4D Magic to enrich music video experience. LIKE APP is a short music video editor app made by Bigo Technologies in Singapore. Since its launch more than 200 countries including India, LIKE has obtained more than 25 million downloads around the world.Recently Google Play Awards 2017 conferred on LIKE 'the most popular application', 'the best social application' and 'the best entertainment application'.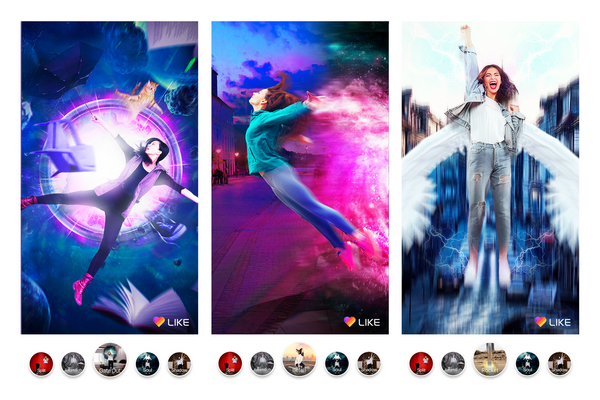 End of 2017 LIKE APP launched its "music magic "which has become an instant sensation worldwide with its ability to identify and classify music, while also accurately matching special effects to any sound. The EDM filter represents a unique technological enhancement within " Music Magic" feature and allows users to produce semi-professional short videos with four of the most popular EDM styles: dubstep, trap, house and future bass.The new feature has already been a hit among music and YouTube artists such as Mackenzie Ziegler, Johnny Orlando, Tessa Brooks who have created their own EDM music videos on the app.
4D Magic feature, freshly launched this week, is a new intelligent human segmentation technology independently developed by LIKE App, which can realize the real-time background and space switching of users; customization. 4D Magic now offers 25 special effects (including Tele Out, Ghost, Clone) and 24 (i.e., Desert, Moon, for gamers there' seven Mario) that users can easily make high-quality videos, no limiting your imagination and creativity.
"Indian is the strategic market of LIKE App, not only because of its large population base but also because this is such a dynamic nation that people are so keen on performing, singing and dancing. We are so glad to see LIKE app has become a community where Indian people can share their best moments which is highlighted by the magical effects we provided," said Aaron Wei, spokesperson for LIKE.
Compared with other short video apps, the features of LIKE are unparalleled in the industry and offer users a perfect solution to easily make and style music videos in just minutes. With users across more than 200 countries, teens and adults are singing and dancing their way into creative scenes they never thought possible.
For more information or to download the application, please visit www.like.video.
About LIKE
LIKE from BIGO TECHNOLOGY PTE. LTD. is a fast-growing Internet company established in Singapore. It focusses on video editing app, video broadcast and VoIP related products which service all over the world.
For more information please visit https://www.like.video/.