November 23, 2017: The legendary German high-end cameras and optics brand 'Leica,' today launched its operations in India. With a vision to change the dynamics of photography in the country, the brand has opened its doors to customers in India by inaugurating its first partner store in the capital city. With this, the brand plans to widen its reach and open more destination points starting with the metros.
Speaking about Leica's entrance to India market, Mr. Sunil Kaul, Managing Director, Asia Pacific Region, Leica Camera AG, said, "We are extremely excited to launch in a country which is rich in art, history and culture. We have opened up our first and exclusive Leica Camera AG partner store in Delhi and I believe this will be appreciated by our patrons."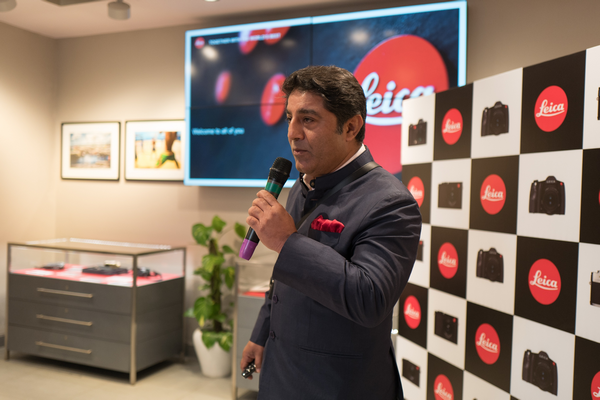 He added, "These are exciting times for us to enter Indian shores when more and more people are becoming familiar with the art of photography. We have observed that people are developing a deep penchant towards sophisticated and high-end camerawork, owing to the increasing disposable income, elevated tourism and deeper engagements on social media. The photography industry is booming and is at its peak in India, and we are committed to creating and building up a community around the brand by connecting with our target consumers and institutions."
Leica has been at the forefront of changing the photography landscape worldwide. Known for its excellent quality in cameras, lenses, and sport optics products, iconic product design, and the finest arts of German precision engineering, Leica products are perfectly crafted masterpieces.  Leica camera systems guarantee best imaging results, enormous creative freedom, and enduring value, while maintaining a tight focus on the corporate philosophy of 'focusing on the essential'. Designed to bring life to pictures, Leica will firstly bring its iconic S, SL, Q, M, V-Lux and D-Lux series to India, which will be exclusively available at Leica partner store in Connaught Place.  The range in India will mirror the global range and pricing.
Leica has ambitious plans rolled up its sleeves to leverage its presence in the country. The brand plans to launch a 360-degree communication campaign which will be focused around Leica's global marketing pillars – Leica Akademie & Leica Galleries. The brand plans to exude the 'Leica experience' to all photography aficionados by curating special in-store experiential activities. The brand is also looking at collaborating with India's top-notch designing and photography institutes to organize informational workshops in order to create brand awareness and recall.
About Leica Camera AG: 
Leica Camera AG is an internationally operating, premium-segment manufacturer of cameras and sport optics products. The legendary status of the Leica brand is founded on a long tradition of excellence in the construction of lenses. And today, in combination with innovative technologies, Leica products continue to guarantee better pictures in all situations in the worlds of visualization and perception. Leica Camera AG has its headquarters in Wetzlar, in the state of Hesse in Germany, and a second production site in Vila Nova de Famalicão, Portugal. The company operates branch offices in Australia, China, France, Italy, Japan, Switzerland, Singapore, South Korea, UK and the USA. New and innovative products have been the driving force behind the company's positive development in recent years.
For more visit: www.leica-camera.com