Bengaluru, February 13, 2017: KriyaTec IT Systems, announced the partnership with Bengaluru based Hotify AI, to launch AI powered solutions tailored for the FinTech, Healthcare, Logistics and Industrial Process Automation industries. KriyaTec's strong domain knowledge & development expertise combined with Hotify's in-depth expertise in Cognitive Intelligence platforms will create customized solutions providing accelerated deployment for their global SME customers.
KriyaTec headquartered in Chennai with offices in US and India has proven expertise in providing enterprise ready software solutions in areas such as IoT, Artificial Intelligence and Blockchain for cloud and mobility solutions. Their areas of focus are FinTech, Healthcare, Logistics and Industrial Process Automation companies in India and Overseas.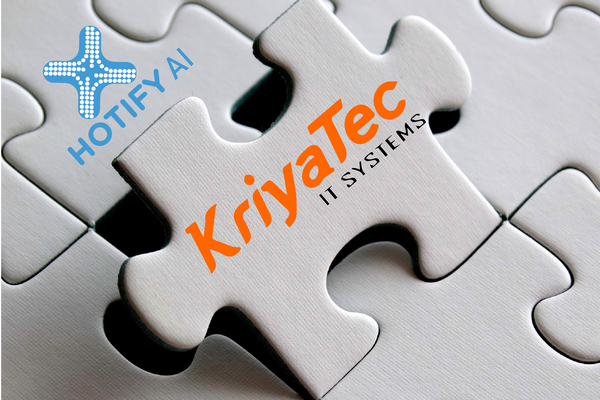 Speaking about the partnership, Mr. Baskaran KT, Founder & CEO, KriyaTec and Chairman of NASSCOM SME Council Tamil Nadu, said "Our symbiotic partnership will provide cutting edge AI powered solutions to improve automation, add accuracy, reduce time to market and intuitive client experience. This will be a win-win for our SME clients from across the globe." 
"AI and IoT are two technologies that have been identified as drivers of business disruption in the digital transformation of businesses globally, and we are excited to be partnering with KriyaTec and deliver value added solutions to their clients. We believe this partnership will open doors to new vertical solutions that Hotify is keen to venture into", said Preethi S Narayanan, President AI Solutions at Hotify.
About KriyaTec
KriyaTec is an IT consulting, design, development and implementation company committed to powering the digital transformation of work processes. The company has offices in Chennai, India and San Francisco, USA and has executed more than 40 enterprise projects. KriyaTec provides enterprise ready software solutions to global SME customers, across various technology areas such as IoT, AI and Blockchain. Our team uses latest programming platforms for Cloud & mobility solutions. Our primarily focus domains are FinTech, Healthcare, Logistics and Industrial process automation industries. More information is available at www.kriyatec.com.
About Hotify AI
Hotify AI is a cognitive intelligence platform, accelerating enablement of enterprise AI solutions and is headquartered in Bangalore, India. Hotify AI has a seasoned leadership team with hands-on experience across a wide range of AI domains and deep expertise in Artificial Intelligence. Hotify AI is presently working with leading enterprises in banking, financial services, manufacturing and consumer packaged goods companies. Hotify AI's platform, provides an out-of-the-box ready-to-use AI backend, designed to accelerate development of intelligent systems and increase AI adoption. Hotify AI also offers AI advisory, consulting, and develops solutions that organizations may require as they work toward the adoption of AI.
1