New Delhi, India, March 18, 2014 –Koenig Solutions Ltd. today announced that they have been inducted to the Limca book of records 2014 as the Largest Offshore IT Training Company with its Moti Nagar campus in Delhi recognized as the largest offshore IT training campus.
"We are elated to have been recognized by the eminent Limca Book of Records. This is a testimony to our constant endeavor to make India a world class IT training hub and provide our customers training in niche areas such as cloud, virtualization, analytics and information security technologies among others with a vision to make them globally employable," said Mr. Rohit Aggarwal, CEO and Founder, Koenig Solutions Ltd.
The recognition also highlights the Koenig Campus at Moti Nagar in West Delhi as the largest offshore IT training campus. Spread over 22,000 sq ft, the Moti Nagar campus houses 70 classrooms, 30 hi-tech testing stations, a foreign currency exchange counter, a reflexology centre, in-house dining, shopping, medical facilities, cafeterias as well as a prayer room for students. It further highlights Koenig's ability to hire and retain the best trainers. Koenig currently has a pool of 250+ certified and competent instructors on payroll.
"Koenig today, is an innovation driven and technologically advanced global learning centre for high-end IT skills and we shall continue to ensure that we keep contributing in holding India's flag high in the global IT industry" added Mr. Rohit Aggarwal.
About Limca Book of Records
Limca Book of Records is a record book of Indian origin. It was first published in 1990, when the Limca Brand was owned by Parle Group. Limca Book of Records is the Indian equivalent to the Guinness Book of World Records with emphasis on unique achievements of Indians within the country and abroad. It's a salute to all those Indians who want to do something different and be remembered for their distinctive deeds. There is more to Limca Book of Records than simple presentation of facts in a chronological order. It has a wide range of information on several subjects, divided for easy reading into chapters. Including the ever-popular Human Story section, there are sections on Education, Agriculture, Medical Science, Business, Sports, Nature, Adventure, Radio, Cinema etc.
About Koenig
Koenig is an innovative training Company serving customers in over 50 countries.Koenig specializes in providing state-of-the-art technical training on all popular IT certifications. Our customers include many Fortune 500 companies and governments all over the world.
Koenig's unique business model has seen it already trained more than 20,000 students from more than 50 countries since its year of inception, during which their trainer pool has swelled to 250. They offer over 100 credible IT courses under one roof, which is unique to Koenig, and their partners represent the who's who of the IT world including the likes of Microsoft, Oracle, Cisco, EMC, Citrix, and Red Hat to name a few. Apart from their classroom training model delivered out of Koenig's seven training centres (six in tourist hotspots in India and one in Dubai), Koenig has three other training models in operation currently.
Koenig is an authorized training partner of Microsoft, Cisco, Oracle, VMware, Red Hat, Novell, EC Council, Adobe, Check Point, PRINCE2®, Zend, EMC, Citrix, Linux Professional Institute and Comp TIA. We are also authorized testing center for Prometric, VUE and Novell.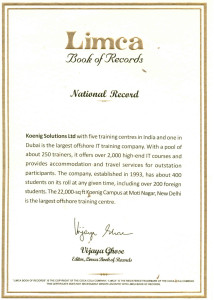 Koenig has won many awards:
VMware – 2014 APJ training partner of the year
2013 Citrix Authorized Learning Centre of the year (CALC)
VMware's Best Training Partner in India and SAARC 2012
Oracle India's Best Training Partner 2012
Microsoft award for Best Contribution to Microsoft Learning 2012
Cisco Learning Partner of the year 2011
Best ATC – Circle of Excellence of EC-Council South Asia Pacific region for the years 2010, 2011 & 2012
Best Place to Work in Education and Training Industry – 2010, 2011 and 2012
Microsoft Citizenship Partner of the Year 2009