It is that time of the year when all festivals are lined up one after the other and one of the main festival is DIWALI – The festival of lights, celebrated by each person with fun, frolic and passion. Charged with the festive zeal, Khatte Meethe Desires – an online gifting portal launches two unique products that are handcrafted and eco-friendly.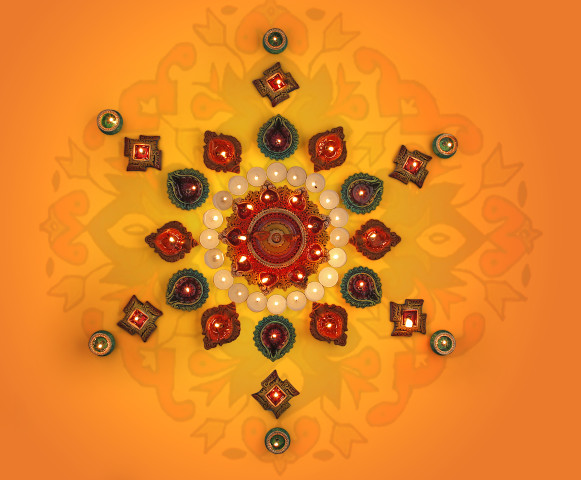 One of the product  "Illuminator",  is a floor decoration rangoli made with gel diyas. It also carries a set of Lakshmi Ji and Ganesh Ji in the centre. It is an easy-to-make Rangoli which can be lit to brighten the home. This can be used very well for decorating your own home and gifting as well. Price – Rs. 1099/
The other product "Wish Basket",  is a golden basket full of lovely wishes and blessings that one must gift to their loved ones. It has a Lakshmi and Ganesh idol, an aesthetic Diwali wishes scroll, two aroma candles, scented potpourri in a glass bowl, a golden colored metal leaf bookmark and a pouch of chocolates. Price – Rs. 899/
Another product is "Aroma Candles".Diwali brings joy and blessings that lingers on till the end of the year. Give your loved ones the gift of blessings in the form of "aroma candles" in four mystique fragrances – vanilla, jasmine, lemon grass and strawberry. Price – Rs. 499.
Availability- http://www.khattemeethedesires.com/
ABOUT KHATTE MEETHE DESIRES

Khatte Meethe Desires, an online gifting and gifting solutions portal, specializes in designing fine hand-crafted products. The products are a reflection of meticulous planning and deep understanding of the ways to bring smile. They have an endless treasury of the very finest array of decorative accessories & handicrafts, large enough to satisfy the most discriminating taste, all created with the procedures that assures great styles, brilliance and quality. Khatte Meethe Desires is the brain child of Ms. Pallavi Khemka who conceived the concept with her  experienced team on generating new and innovative product ideas with patience, constantly conceptualizing them into products that bring smiles which lasts a lifetime and in particular, constantly create multiple aesthetic trends. Everything is conceptualized with the effort of creating memories and not just products. Every product has a thought behind it and narrates a story elaborating the desires of the giver. For this reason, each and everything that goes into making a gift is highly researched and is sourced from the best of the resources and thus the products are painstakingly handcrafted.