~Launches a special in-flight fund-raising drive to support two leading women-focused NGOs~
Mumbai, March 08, 2018: In keeping with the global tradition of recognising the significant and growing contribution of women, Jet Airways, India's full-service, premier international airline, celebrates the International Women's Day (IWD) by operating flights with an all-women Cockpit and Cabin Crew members, along with a host of other measures, as part of its JetViva initiative.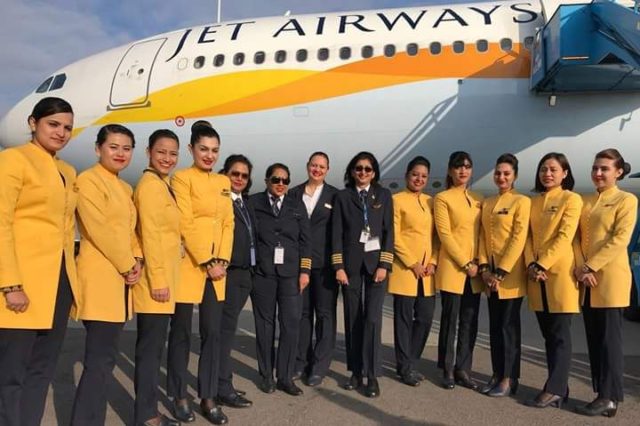 Observed annually on March 8, International Women's Day represents an opportunity to acknowledge and appreciate women and their contributions as well as achievements in all spheres of life. Demonstrating confidence and pride in its women employees who comprise more than one-third of its workforce, this time the airline spreads the International Women's Day celebrations not only pan-India, but also on its long-haul, transatlantic flights.
Additionally, Jet Airways is also undertaking a special in-flight fundraising drive to support the work of two leading NGOs working on women's issues. The airline will contribute the benefits of these in-flight collection proceeds to Mijwan Welfare Society that aims to empower the underprivileged with a focus on the girl child through education, technical skills and employment generation, and Save the Children India's – Women's Institute for Social Education, which provides vocational training programmes for adolescent girls from marginalised sections of society across Mumbai. The fund raising drive runs from until March 16, 2018 on all its domestic flights.
Vinay Dube, CEO, Jet Airways, said, "International Women's Day celebrates the presence and contribution of women in our midst. As India's leading carrier and an equal opportunity employer, women have played an instrumental role in our growth and success. We take immense pride in not only working with them shoulder to shoulder every day, but also in having welcomed and flown countless women as our guests in our services to the nation over the last 25 years. Today, we thank our women employees for their efforts, passion and dedication to work as well as our guests in having given us the opportunity to be of service to them."
On the occasion of International Women's Day, Jet Airways' popular international flights Mumbai – Dubai – Mumbai, Mumbai–Doha and the long-haul transatlantic Amsterdam-Toronto services are staffed exclusively by an all-woman cockpit crew. The airline is also operating all women Cockpit and Cabin Crew flights on several domestic sectors including, Mumbai – Delhi – Mumbai, Mumbai – Ahmedabad – Mumbai, Mumbai – Delhi, Delhi – Bengaluru, Delhi – Mumbai, as also Mumbai – Bengaluru sectors.
Notably, every aspect of some of these domestic flights is being managed exclusively by an all-women crew from a cross section of the business, including engineering, ground handling, ramp and airport services. The technical services are being attended by women aircraft engineers, technicians and flight dispatchers; while the non-technical work on the ground is being handled by women duty managers, counter staff and security officers highlighting the professionalism and capabilities of the airline's women employees, who are second to none.
Once on board, the celebrations commence with special inflight announcements specially greeting all the women guests on these flights immediately after take-off.

Marking the occasion, Jet Airways is also creating memorable guest delight moments for lady travellers to set the celebratory mood. Fanfare activities including Lucky Draw contests will be carried out on select domestic flights by the crew operating 9W 301, 9W 332, 9W 807, 9W 807 and 9W 411 on March 08, 2018. The airline also surprises its women guests aboard these flights by presenting each one with a gift hamper consisting of a range of offerings from top brands such as Votre's Skin Care; Lemon Tree Hotels as well as Jean Claude Biguine, Paris, amongst others.
The day's delightful moments, captured by the airline's crew will be promoted via the airline's social media platforms in order to share the snapshot of the day's excitement with other guests.
Jet Airways has been creating awareness about initiatives for women's healthcare, education, empowerment and inclusion in the society through 'Jet Viva – Celebrating Womanhood'. It has been at the forefront of such initiatives over the past years and remains grateful for the support provided by its guests.
Flights being operated by Women Cockpit crew and Cabin Crew
| | | | |
| --- | --- | --- | --- |
| Flight No. | Origin | Destination | Flight Time |
| 9W 384 | DEL | BOM | 21:45 |
| 9W 914 | BOM | AMD | 17:45 |
| 9W 915 | AMD | BOM | 19:35 |
| 9W 542 | BOM | DXB | 09:10 |
| 9W 541 | DXB | BOM | 12:15 |
| 9W 234 | AMS | YYZ | 12:10 |
| 9W 301 | BOM | DEL | 07:05 |
| 9W 807 | DEL | BLR | 07:05 |
| 9W 332 | DEL | BOM | 07:10 |
| 9W 441 | BOM | BLR | 06:30 |
| 9W 552 | BOM | DOH | 20:15 |
About Jet Airways:
Jet Airways is India's premier international airline which operates flights to 64 destinations, including India and overseas. Jet Airways' robust domestic India network spans the length and breadth of the country covering metro cities, state capitals and emerging destinations. Beyond India, Jet Airways operates flights to key international destinations in South East Asia, South Asia, Middle East, Europe and North America.
The Jet Airways Group currently operates a fleet of 119 aircraft, comprising Boeing 777-300 ERs, Airbus A330-200/300, Next Generation Boeing 737s and ATR 72-500/600s.
1