Jaypee Hospital organized a Free Health Camp for Seniors Citizens
Tests such as Body Fat Composition Analysis, BP and Sugar were done free of Cost
The card has lots of benefits and discount offers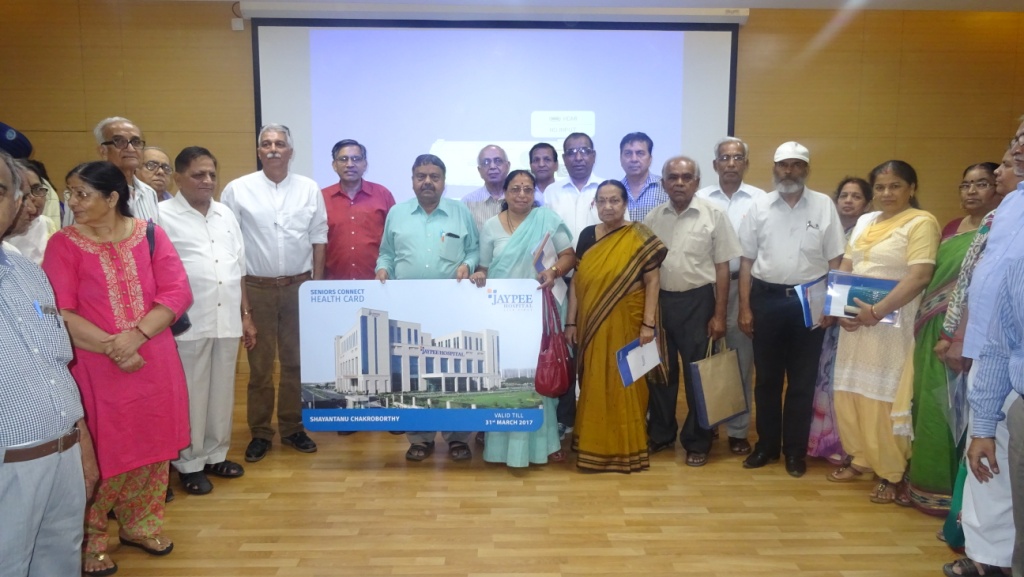 Noida, May 15th, 2016: Jaypee Hospital, a Multi Super Speciality Hospital in Sector 128 Noida, launched a 'Seniors Connect Health Card' and organized a free health camp for the senior citizens. The programme aimed at spreading awareness regarding the heart and lifestyle diseases among senior citizens.
The two hour long session was organized in presence of more than hundred people to spread awareness about the dreadful impact of changing lifestyle on our health and lives.
At the health programme tests such as body fat composition analysis, random blood sugar and blood pressure were conducted at free of cost for senior citizen. Along with these the participants were also given a 'Seniors Connect Health Card' which has lots of benefits and discount offers.
The session was addressed by Dr. Gunjan Kapoor, Director, Interventional Cardiology and Dr. Hemi Soneja, Sr. Consultant, Lifestyle Management who briefed the audience about the causes, effects, preventive measures, myths and treatment about the diseases.
Addressing the session Dr. Gunjan Kapoor said, "We always think that all heart related diseases occur after the age of 50 but truth is heart disease strikes Indians almost 33% times earlier than their age. Almost 50% of all heart attacks in Indian men occur under the age of 50 years and 25% under 40 years of age. One third of Indians have deadly cholesterol which increases the chances of getting a heart disease even at a young age."
"Number one cause of mortality and a silent epidemic among Indians are the heart diseases. India accounts for approximately 60% of the world's heart disease burden. We need to understand that we Indians are already genetically pre- disposed to such diseases and due to the change in lifestyle as well the cases of heart related diseases are increasing  even at a young age", Dr. Kapoor added.
Highlighting the importance of a healthy lifestyle, Dr. Hemi Soneja said, "Everyday we see patients suffering from health issues related to overweight, obesity, stress, mental exhaustion, illness etc. which majorly accounts for not having a healthy lifestyle. One can prevent from the root cause of the diseases by following a healthy diet with a basic exercise pattern regularly. Healthy lifestyle is a key to a happy life- that is the mantra."
About Jaypee Hospital:
The Noida based Jaypee hospital is the flagship hospital of the Jaypee Group, which herald the groups with a noble intention to enter the healthcare space. The hospital spreads across 25 acres of sprawling campus in the state of Uttar Pradesh. The hospital has been planned and designed as a 1200 bedded tertiary care multi-specialty facility and has commissioned 525 beds in the first phase.
The Jaypee Group is committed to providing world-class healthcare supported by renowned consultants and most advanced technology. Jaypee Hospital is a super-specialty hospital with advance healthcare facilities, the latest diagnostic services, and state- of-the –art technology focused on medical specialties that meet the needs of masses. The plan, design and construction of this hospital position itself amongst very few LEED Certified hospitals building in India.
For further information on the company, please visit
1