Holds Investor Pitch Day where Start-ups Shared Business Ideas to Explore Investment Possibilities with Investors
Launches Nahar JBN for the Business Network
Delhi,27th May 2018: Jain International Trade Organisation (JITO) reaches yet another milestone!! JITO North Delhi hosts a meticulously planned B2B event, inviting JAIN members from Delhi-NCR region to come together for noble cause of economic empowerment. This is the first B2B day held within the Delhi-NCR community. The event poised to inspire learnings and triumphing an inclusive socio-economic growth. The highlight of the day was the most unique & stupendous Rapid Networking session, followed by all Chairman(s) of JITO North Zone Chapters jointly launching the first JBN Referral Group, GROWTH HACKERS. JITO Business Network (JBN) is a marketing as well as a referral platform to provide business opportunities to its community members. With the aim to help the Community's Business network , start-ups and the economy, JITO, India's largest organization of prominent Jain businessmen, industrialists and professionals in association with Nahar JBN and JITO incubation and Innovation Foundation (JIIF) held an 'Investor Roadshow and a Networking Session at the Shangri-La New Delhi today that was hosted by JITO North Delhi Chapter. Several high-potential start-ups pitched their business ideas before JITO's Angel Network (JAN) members for investments. JITO's Investor Roadshow was an excellent opportunity for start-ups and entrepreneurs to showcase their potential.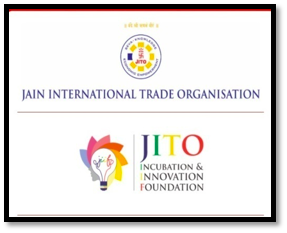 Prominent among those who made pitches included MED365 (Med365 is a technology-driven chronic wellness company with the LAB @ HOME model adding Convenience, Care, and Cost-effectiveness to the diagnostic industry)and  Cupshup (Cupshup is an advertising/media company which aims to convert the tea breaks of the country into discussion joints for brands by advertising on the paper tea/coffee cups)
Speaking of the initiative, Dr Narendra Shyamsukha, Chairman JITO Incubation and Innovation Foundation and Founder Chairman, ICA Edu Skills, said, "Our youth are the leaders of tomorrow. Since we have a vision of shaping the future of the country, we help and support young entrepreneurs and their business ideas. We believe that this can improve the business scenario in the country. Our aim is to facilitate economic empowerment in the country through the start-up ecosystem .The Pitch Day is not just an opportunity for start-ups looking for investment; it also facilitates new investors to consider start-up investments as an alternate investment avenue."
Mr. Goutam Jain The Chapter Chairman has the impeccable vision "To Develop Leadership, Encourage Learnings, Promote B2B within the Community & Foster Entrepreneurship thereby achieving an Inclusive Socio-Economic Growth across Genders and Age Groups."
There were knowledge sessions on the dynamics of Angel Investing. The day was also an opportunity for start-ups to network with relevant investors for strategic support and mentoring apart from seeking funding.  JITO plans to have incubation centres across major cities in the country to help and nurture start-ups. The first such center was started in Mumbai in September 2017 and will be followed up with similar centres in other metros.
Hosted by JITO North Delhi Chapter, led by Goutam Jain (Chairman), Manish Jain(Chief Secretary), Rahul Jain (ConVener B2B Day) and Vinay Raizada (Co-ConVener B2B Day)- the chapter has the impeccable vision To Develop Leadership, Encourage Learnings, Promote B2B within the Community & Foster Entrepreneurship thereby achieving an Inclusive Socio-Economic Growth across Genders and Age Groups.
Brief about JITO:
Jain International Trade Organization (JITO) is a unique, multi-stakeholder community of visionary Jain Industrialists, Businessmen Professionals who share a commitment to shape the future of the community and society at large. JITO is governed by a Board of 42 Directors – reconstituted every two years ensuring a democratic way of governance. An organization with Corpus of INR 165+ Crores , 10 administrative zones, 65 Chapters and 35 Units at present . Currently 6899 members and counting .
Brief about JIIF::
JITO's Incubation and Innovation Foundation (JIIF), a wholly owned subsidiary of JITO, supports JAN funded Startups through strategic connects and visibility.The incubation arm of JIIF called JITO Incubation Centre provides infrastructure/space to work, training, marketing support, shared services, networking and funding opportunities to Startups who join as incubates. Some free credit and services are also extended to JAN funded companies.
 JITO Angel Network has till date Invested 7 Cr in Chalo (Earlier known as Zophop) A Market leader in addressing the transit problems faced by 300 million Indians daily; Onn Bikes – App Based Unified platform for renting/ leasing of two wheelers; Sun-telematics – Drive – Technology platform which aggregates supply from unorganized people transportation market; HappyEmi – a point‐of‐sale lending platform for offline stores and Toch (AI Based Blockchain curated video content platform)
Currently, having 11 Incubatees from different sectors and adding 2-3 every Month.
For more information Visit us on www.jitojiif.com.
1