Mumbai, 13th October, 2017: As a prequel to the most awaited Teen Music Festival – Totem Pole 2017, an interactive one-day session The Conference: Road to Excellence was organized at St. Regis, Mumbai. It brought together global music industry's stalwarts under one roof. Conference delegates comprised renowned multi Grammy winning producers, engineers and managers like Charity Lomax, DJ Swivel, Josh Gudwin and Allen Johnston.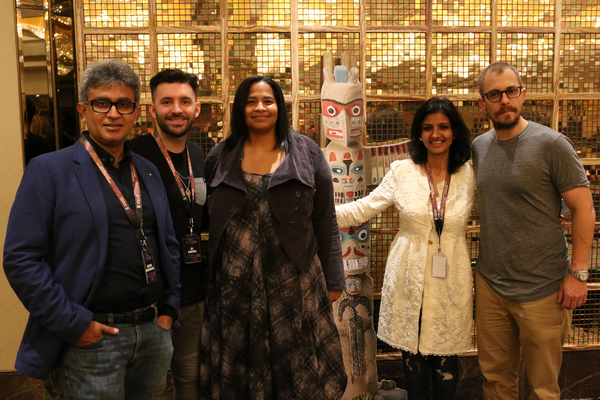 Multiple sessions were conducted through the day that discussed and highlighted contemporary issues of the global music industry. Students, artists, technicians, professionals participated in these sessions that were defining the landscape of music and entertainment industry today. These music stalwarts spoke about globalization of the music industry and opportunities that exist worldwide.
The conference aimed to encourage the aspirations of budding music talents through several interactive sessions.
Industry veteran Josh Gudwin said, "No matter the language or culture, you instantly know you have common language that threads us all together and that is MUSIC! With all the traveling that comes along with the job, I'm always impressed at the unity and community that follows.  Thank you Ashish & Ujjla for the magic carpet ride!"
"The time has come for the music industry in India to change forever. We at Flying Carpet Productions are defining and driving culture.  The Conference today brings Grammy winning producers to India for the 1st time on a platform which will drive the culture going forward." Said Ashish Manchanda – Founder, Flying Carpet Productions.
"We are all global citizens today.  As an integral part of this global village, we are the core of blending India with the rest of the world, whether it be the US, Europe or our own SAARC, countries.  We are both humbled and proud to be able to help drive the change which will create new precedents in the times to come." Said Ujjla Manchanda – Co-Founder, Flying Carpet Productions.
DJ  Swivel award winning Canadian music artist said, "I'm very excited to be in Mumbai and part of the Totem Pole Festival, witnessing what feels like the birth of a new Indian music industry. Working in the music business in America, it's easy to take for granted the amount of structure and organization that's been constructed over many years to ensure guys like me are able to have a career and be successful. I'm grateful to be here and to help contribute to the conversation to ensure Indian talent can take advantage of the same opportunities I have.
About Flying Carpet Productions:
Flying Carpet Productions (FCP) is an end to end media & content solutions company offering services in music production, talent management, on-ground festivals, sound engineering and studio facilities.  FCP has been set up under the aegis of Ashish Manchanda, an award winning entrepreneur, music producer, sound engineer and protégé of Bruce Swedien, Multi Grammy winning producer / engineer of Michal Jackson's records.
Ashish Manchanda was inducted into the Hall of Fame of the prestigious Full Sail University, FL, USA by his mentor, Bruce Swedein in 2016 and as it has been, Ashish in the year 2017 presented Bruce Swedein the Full Sail University Industry Icon Award.
FCP's Co – founder & Director, Ujjla Manchanda, is a nationally ranked and felicitated chartered account and management consultant. She has had a long corporate career with global giants like Arthur Anderson, ICICI, Bank of America and Hewitt Associates.  Moving into the lifestyle industry, she helped develop inroads for brands such as Aigner, Ferragamo , H2O+ etc. in the Indian markets.  Her unique understanding of PR & Marketing brought her to work on 4 seasons of Lakme Fashion Week as a Chief Strategist and similarly for the IIFA awards at Yorkshire, UK. She has also been the strategic consultant for the first 'India International Jewellery Week' (IIJW) also.Ujjla extends her strategic and management expertise to the growth of FCP across domains and territories.
www.flyingcarpetproductions.com