Merchants' Chamber of Commerce & Industry organized an Interactive Session on "Agri–business Opportunities in West Bengal" today. The Session was addressed by:
Dr. Sanjeev Chopra, IAS, Additional Chief Secretary, Department of Agriculture, Govt. of West Bengal – Chairman and Moderator of the Session.
Shri Pradip Kumar Mazumdar, Chief Advisor to the Chief Minister of West Bengal for Agriculture & Allied sectors – as the Chief Guest
Smt. Nandini Chakravorty, IAS, Secretary, Food Processing Industries and Horticulture, Govt. of West Bengal
Dr. Ravi Inder Singh, IAS, Secretary, Fisheries Department, Govt. of West Bengal and
Shri Rajesh Kumar Sinha, IAS, Secretary, Department of Agriculture Marketing, Govt. of West Bengal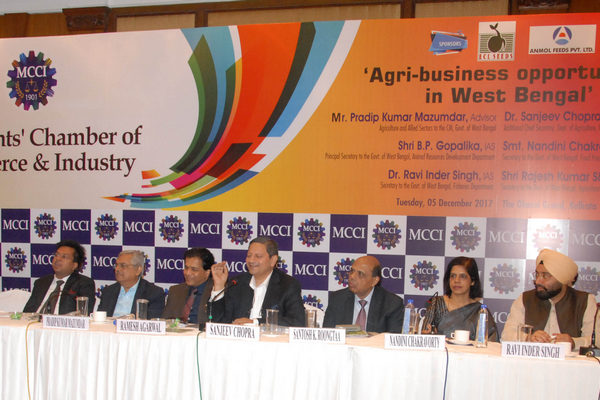 Addressing the House Dr. Sanjeev Chopra spoke about the immense potential of West Bengal to become the 1st and foremost state in terms of agri business. There had been a paradigm shift in the policy initiatives of the state govt. It had become demand driven supply management, he said and invited private players to develop infrastructure and multi-purpose cold chain. The State is the largest producer of rice, vegetables, pineapples & flowers in the country; and the second largest producer of potatoes, litchis, tea and fisheries in India. Bengal ranks third in total meat production of India, and is also a significant producer of mangoes, mandarins and oranges. Exports from the state in horticulture and vegetables has crossed Rs.500 crs.  Around 150 varieties of medicinal plants & herbs are grown in the State. About 27.97 million tons of horticultural crops were produced in the state, in 2015-16, rice production in the State reached 16.1 million tonnes and the production of horticulture crops in Bengal stood at 27.97 million metric tonnes.
The State has 6 Agro-Climatic Zones and offers a diverse variety of environments for agriculture & horticulture production. In 2016-'17, production of fruits in Bengal stood at 3.7 million tones and that of vegetables, at 25.5 million tones. Bengal also has a favourable climate for poultry breeding and is considered one of the most attractive poultry markets in the country. Also, with a production of 252 thousand tonnes in the rainy season, West Bengal was one of the leading producers of meat in the country in 2016-'17.
Outlining the strategic initiatives, Shri Pradip Kumar Mazumdar highlighted on the fisheries segment, horticulture, sesame cultivation for sesame oil, which has good export potential, maize for poultry and fish feed, besides human consumption. He also invited PPP for rice milling and solvent extraction of rice bran oil.
Smt Nandini Chakravorty spoke about the post harvest losses, demand supply gap, as also export of mangoes to Europe and litchis to Middle East. He explained how the state government had made a paradigm shift in its approach to agriculture form an increasing the supply to demand driven supply management which has helped the farmers significantly and the average income of farmers has gone up from Rs.9600 a year to Over Rs.2.39 lakhs a year.
Dr. Ravi Inder Singh mentioned about establishment of modern hatcheries for high quality fish seed. The long coastline and innumerable water bodies are reflecting the huge potential for inland fishing & fish cultivation. West Bengal produced 17.8 lakh tons of fish annually and ot would go up 20 lakh tons by 2020. The State Fisheries Department secured an order worth about US $ 133.87 million, to export fishes to China, Japan & Dubai. He also informed about the upcoming fish farming hub in Swarup Nagar in Rajarhat.
Shri Rajesh Kumar Sinha spoke about having 186 Krishak Bazars already in place as also of having Sufal Bangla markets in every block for realization of better price to farmers and providing a better platform for agri marketing by farmers. Once Sufal Markets will be operating in a larger way, it will bring competition in the market which will benefit the consumers by way of reduced price. However, it would be difficult to eliminate the middleman completely in the agr-trade for various reasons. The pack house in Malda is now operational which has pre cooling chamber, cold storage units and hot water immersion treatment facilities. The Barasat pack house and the  perishable cargo complex at Bagdogra will also be operational soon. All these agri-infrastructure, the, can play a key role in taking agri-business in Bengal to a new growth trajectory.
The Welcome Address was delivered by Shri Ramesh Agarwal, President, MCCI, who spoke about the growth in agri sector in the state and also of exploring the linkages.
1