New Collaboration Provides Comprehensive Mobile Protection, Allowing Consumers to Connect with Confidence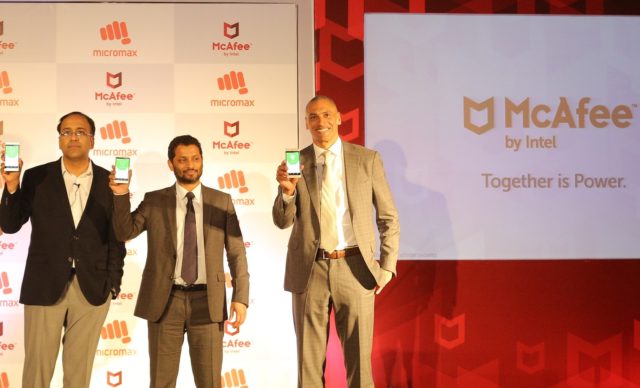 India – March 8, 2017 – Intel Security today announced a strategic partnership with Micromax, to protect its range of smartphones against growing and increasingly complex mobile threats. These devices will come integrated with McAfee Mobile Assistant that will help provide a secure mobile experience to Micromax users in India.
According to TRAI (Telecom Regulatory Authority of India), today, 133 million phones in India are connected to the internet. As the country moves towards integrating mobile in the economy, there has been a surge in usage of mobile wallets, online transactions and app downloads, making the smartphones even more vulnerable and a playing field for cyber criminals.
"With smartphones becoming an integral part of our connected lives, it is important consumers realize threats that exist in the digital world and understand how to safeguard their valued data," said Christopher Young, Senior Vice President, General Manager, Intel Security Group. "Intel Security is focused on championing cybersecurity and we believe in protecting every device. Globally we have secured over 220 million users. The partnership with Micromax is another step forward in realizing our vision of being the #1 security partner of choice."
According to McAfee Labs Threat Predictions Report, mobile malware will continue to grow and target vulnerable consumers. As more consumers use their mobile devices in day to day activities from online banking to managing their connected devices, malware writers are rapidly evolving their techniques to exploit unsuspecting users to gain access their information, further underscoring need for robust protection.
"As India leads the world with growing smartphone penetration and is witnessing an increased usage of mobile wallets, it is imperative to build products and services that are secure and do not comprise on data security. At Micromax, we realize that security of data on smartphones is critical and as one of the world's largest cybersecurity organizations, Intel Security was an obvious choice for us to partner with; given the company's global pedigree, strong lineage and R & D capabilities." said Vikas Jain, Co-Founder of Micromax Informatics. He added "By integrating McAfee Mobile Assistant on Micromax devices, we are enabling our customers to enjoy a safe online experience in the digitally connected world."
Availability
Micromax smartphones with integrated McAfee Mobile Assistant will be available starting April 2017.
About McAfee Mobile Assistant
McAfee Mobile Assistant is an all-in-one security and optimization application that offers protection from risky apps, malware and potentially unwanted programs.
About Intel Security
Intel Security, with its McAfee product line, is dedicated to making the digital world safer and more secure for everyone. Intel Security is a division of Intel Corporation. Learn more at www.intelsecurity.com.
About Micromax Informatics
Micromax Informatics Limited is the 10th largest mobile brand in the world (Counterpoint Research) and one of the leading consumer electronics company. Over the past decade, Micromax has pioneered the democratization of technology for masses by offering affordable innovations through their products and removing barriers for large scale adoption of advanced technologies. The brand embraces innovative product portfolio ranging from feature rich, dual – SIM phones, 4G Android smartphones, tablets, Smart televisions, Air Conditioners and Laptops. With successful operations across India, Russia and other SAARC markets, Micromax sells more than 3 million Mobility Devices every month.