~Inorbit in a bid to build awareness about breast cancer will host sessions on self-examination, defence and doctor interactions ~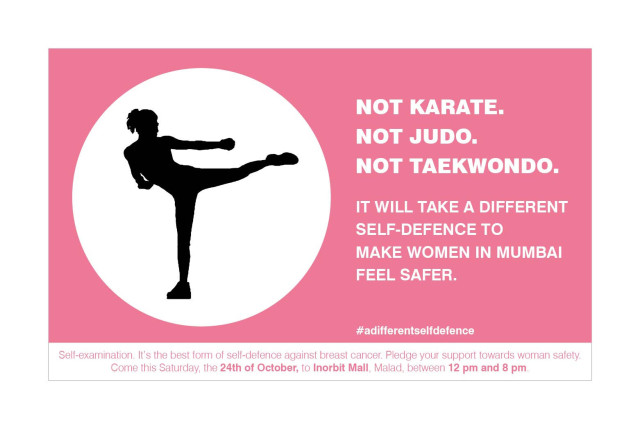 Mumbai, October, 2015 – Inorbit Mall, Malad invites all the women to be a part of the Breast Cancer Awareness program on 24th October 2015 between 12 noon to 8 pm. Hosted by Sorento Heathcare Communications Pvt Ltd in association with Inorbit, the program will include educational sessions on self-examination and an interactive session with a doctor wherein participants can get their doubts and questions cleared.
The evening will also witness a performance by a karate flash mob. All the women can get themselves clicked at the special photo booth and the picture will be handed over to them as a memento.
Ladies come to support the cause and lead a healthy life.
About Inorbit Malls:
Inorbit Malls, a group company of the K. Raheja Corp, was initiated with an objective to not just create physical structures but also to influence lifestyles. Inorbit Malls, committed to setting benchmarks in retailing in India, provides an excellent walk through experience for customers. Inorbit Malls combine the knowledge of the Indian Consumer and a changing Indian market scenario in locating, designing, planning and managing retail environments.
Inorbit Malls began their journey by opening its first mall at Malad to the public in early 2004, in Mumbai. Since then, Inorbit has repeated its success with world class malls in Vashi – Navi Mumbai, Cyberabad – Hyderabad, Viman Nagar – Pune, Whitefield – Bangalore & Gorwa Road – Vadodara. The malls have universal class and appeal and seek to provide a one-stop destination for fashion, lifestyle, food, and entertainment leading to an international experience.