Berlin,2014 – A concentrated overview of the market with a wide and diverse range of products: more than 100,000 trade visitors are expected to attend InnoTrans 2014, where the 39 combined stands will provide a representative picture of the innovative capabilities of the supply industry from 21 countries and regions. Once again Japan is occupying an entire hall and this year, for the first time, an individual region, the state of Saxony, will also be using a complete hall to stage its display. Saxony can be found in Hall 7.2b, with two combined stands and 32 firms.
Both of the Saxony stands are being organized by the state's economic promotion agency Wirtschaftsförderung Sachsen GmbH and IZBE, the Innovationszentrum Bahntechnik Europa (Rail Technology Innovation Centre Europe). "We are looking for opportunities in Europe", explains Sascha Behnsen from the IZBE. "We are making use of InnoTrans firstly to present railway technology from Saxony and secondly the trade show provides us with an interface for establishing new business contacts between the rail industries of Saxony and of Europe."
China Railway Pavilion
The more than 20 Chinese companies in the China Railway Pavilion are also seeking to develop new markets from 23 to 26 September at InnoTrans. The leading manufacturers from the Chinese transport industry exhibiting here represent such important areas as rolling stock, signalling and control systems and vehicle interiors. There is a major emphasis on aspects such as energy efficiency and environmental protection. The China Railway Pavilion is being organized by the China Academy of Railway Sciences (CARS).
There are also four combined stands in the CityCube Berlin. This new exhibition hall features combined displays by suppliers from Korea, Switzerland, Sweden and the Berlin-Brandenburg region. "The entire value-added chain in the region around the German capital is represented here", explains Melanie Bähr, General Manager of the Berlin Economic Promotion Agency. "Some 60 companies are occupying a 1,000 square metre combined stand at the CityCube in order to present their capabilities to visitors to InnoTrans."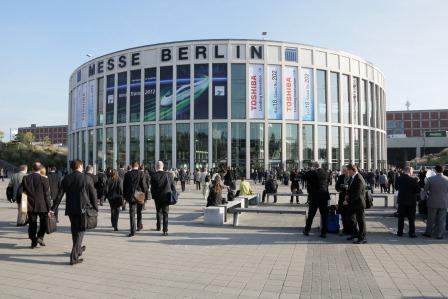 About InnoTrans
InnoTrans is the world's leading trade fair for transport technology and takes place every two years in Berlin.At the last event 2,515 companies from 49 countries presented their rail industry innovations to 126,110 trade visitors who came from 140 countries.The five sections at InnoTrans are Railway Technology, Railway Infrastructure, Public Transport, Interiors and Tunnel Construction.InnoTrans is organised by Messe Berlin GmbH.The tenth InnoTrans will take place from 23 to 26 September 2014.More details are available online at www.innotrans.com