WeSchool conferred with 'Best Innovative Institute' and Prof Dr Uday Salunkhe, Group Director honored as 'Best Education Entrepreneur'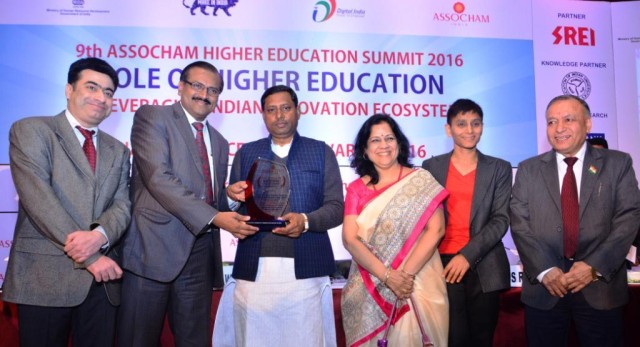 Mumbai, February 19, 2015: Associated Chambers of Commerce of India   (ASSOCHAM) has been playing a catalytic role with regards to molding the Trade, Commerce and Industrial environment of the country. In the ninth year of the Higher Education Summit, the country's best educational institutions and universities were awarded in 21 different categories in New Delhi. Union HRD Minister of State, Prof Dr. Ram Shankar Katheria presented the awards.
ASSOCHAM presents National Education Excellence Awards to those who have contributed significantly in the field of improving the quality in education, delivery mechanism with emphasis on world-class research and innovations in enhancing the development of quality education, with employability. The submitted entries were evaluated on the following criteria: Innovation, Scalability, Ability to Overcome Challenges, Achievements, and Impact Potential.
Mumbai's Prin. L.N. Welingkar Institute of Management  Development and Research (WeSchool) received the  ' Best Innovation  Institute of the year' award   It was a double honor for WeSchool as its Group Director , Prof. Dr. Uday Salunkhe, received the 'Best Education Entrepreneur of the year' award , for his outstanding and visionary contribution towards establishing and developing  WeSchool as a Center of  excellence.
The summit witnessed the presence of policy makers, industry leaders, vice-chancellors and directors of renowned educational institutions of the country.
Expressing his thoughts at the occasion the Union HRD Minister of State, Prof Dr. Ram Shankar Katheria shared "Educational Institutes are the hubs of nurturing talent and skills. They need to align and reinvent their role and contribution to prepare the youth for building newer paths and inclusive growth. Innovation and Entrepreneurship will therefore play a central role in the years ahead."
While commenting on the dual achievement, Prof Dr Uday Salunkhe, Group Director, WeSchool, said "Innovation led Entrepreneurship is critical for sustainable progress of industry and the nation. WeSchool has chosen to embed principles of design thinking, innovation, entrepreneurship and leadership development in the dna of all its educational endeavors to nurture our students through multiple pedagogical approaches. Through the Institutes Global Citizen Leader program, the institute hopes to align talent and responsibility of its students to grow as individuals and contribute towards national growth."