IACC to propose areas of interest for both the nations to ramp up infrastructure
Mumbai, September 14, 2018: India needs to invest US$4.5 trillion over the next 10 -15 years to meet its infrastructure needs and this offers multiple opportunities to US to fund, share technology and skill development in this arena.
To create newer ideations and concepts for funding of infrastructure in India, Indo American Chamber of Commerce (IACC) will be organizing a special session on Infrastructure: What India needs to spend over the next decade and how it will be funded" to coincide with its flagship annual convention being held in Mumbai on 21 September 2018.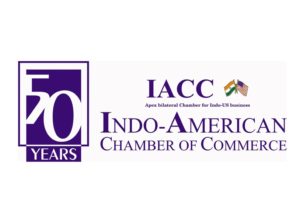 IACC, in its Golden Jubilee year, has been steadfast in providing a platform to both India and US–the world's largest and oldest democracies–to engage in a meaningful economic cooperation for mutual benefits despite the many ups and downs in the relationships of the two nations.
The session will see participation of more than 300 delegates from India and the US, and it will be addressed, among others, by Mr. Sanjay Bhatia, Chairman, Mumbai Port Trust, Mr. D.K. Sen, Whole-Time Director and Sr. Executive Vice President (Infrastructure) L&T,Mr. Alok Ranjan, ICAS, Member (Finance), Inland Waterways Authority of India.
Hon'ble Mr. Suresh Prabhu, Minister for Commerce and Industry, Government Of India, His Excellency Mr. Kenneth I. Juster, U.S. Ambassador to India, Hon'ble Mr. P. P. Chaudhary, Minister of State for Corporate Affairs,  Govt. of India and Hon'ble Mr. Edgard D. Kagan, Consul General, US Consulate, Mumbai will be present at the inaugural Session of the Annual Convention on 21st Sept.
The IACC convention comes close on the heels of July 30 US announcement that it would initiate several new initiatives in the areas of infrastructure, energy and digital economy for the Indo-Pacific region which includes countries such as India, Indonesia and Australia. Senior Policy Advisor to the Secretary of State Brian Hook had then stated that the Secretary of the State would be announcing several new initiatives to expand economic engagement in this region.
The US way of raising funds through concepts such as municipal bonds and built operate transfer to build its infrastructure can show path to India to ramp up its infrastructure needs. Similarly, US can significantly contribute to India's ambitious mission to create 100 Smart Cities and building of freight corridors.
About Indo American Chamber of Commerce:
The Indo-American Chamber of Commerce (IACC), established in 1968, is the apex bi-lateral Chamber synergizing India-US Economic Engagement. It was started by Ambassador Chester Bowles along with the then Industry leaders and visionaries like Mr. S L Kirloskar, Mr. Harish Mahindra, Mr. H. P. Nanda, Mr. Ambalal Kilachand, Mr. A. M. M. Arunachalam, Mr. Frederick Fales and Mr. John Oris Sims for enhancing US India Economic Engagement. Today IACC has pan India presence with 2400 members at 12 locations, representing cross section of US and Indian Industry. The major objective of IACC is to promote Indo-American business, trade and economic relations. IACC promotes bilateral trade, investment and technology transfer, facilitates business collaborations, joint ventures, marketing tie-ups and strategic alliances through a set of proactive business-oriented initiatives.
IACC acts as a catalyst for sustainable growth of business between India and the US. In its four decades of existence, IACC has established operational connectivity with a host of business, research and developmental institutions in India and US in order to leverage each other's capabilities for enhancing Indo-US business relations. The Chamber continuously interacts with the Indian and US Governments, and provides them feedback on bilateral issues relating to trade and investment. In essence, IACC also acts as a forum for its member companies to interact with senior functionaries of both the Governments. IACC member companies are involved in a cross-section of business domains such as manufacturing, engineering, construction, consumer goods, electronics, IT, pharmaceuticals, consulting, travel and tourism, etc.
The geographical spread of IACC is unique as it operates through 12 offices located throughout the country. These are in Ahmedabad, Bangalore, Bhubaneswar, Chennai, Cochin, Delhi, Hyderabad, Kolkata, Mumbai, Pune, Varanasi & Patna.