513 MW of new capacity addition over the last 12 months at a growth of 113 %; similar growth rate expected next year
India has added more capacity in the last one year than all previous years put together
Rooftop solar expected to grow faster than utility solar in the next 5 years
22% of the capacity addition has been through PPA based projects
Rooftop solar costs have come down by 12% per annum in the last four years
Indian rooftop solar is expected to reach total installed capacity of 12.7 GW by 2021
New Delhi, October 19, 2016: BRIDGE TO INDIA, a leading consulting and knowledge services provider in the Indian cleantech market, has released the latest edition of its report on India's rooftop solar market. As per the report, titled 'India Solar Rooftop Map' , India's rooftop solar capacity has crossed 1 GW mark this year.
As per the report, released today at Intersolar Mumbai, India has added 513 MW of rooftop solar capacity over the past 12 months, growing at 113 % over previous 12 months, reaching total installed capacity of 1,020 MW. Last year's capacity addition is more than the capacity addition of all previous years put together. 22% of capacity added has come through PPA based projects. CleanMax, Amplus Solar, Cleantech Solar, Azure Power, Rays Expert and Hero Future Energies are some of the leading companies offering PPAs.
The rooftop solar market growth is directly linked to improving economics of rooftop solar. Most commercial and industrial consumers can reduce their power bills by between 20-30% by adopting rooftop solar power. This growth is expected to continue in the years to come and the market is expected to reach a total capacity of 12.7 GW by 2021. The map also highlights that commercial and industrial consumers dominate the market with 63% of installed capacity. Grid parity for these consumers has now been achieved in 17 out of the 19 largest states in India. In states such as Maharashtra and Haryana, tariff differential between grid power and rooftop solar power can be as high as 30%.
This has been much steeper than what most analysts would have earlier predicted and has helped in achieving the existing growth rate.
Speaking on the launch of the map, Mr. Vinay Rustagi, Managing Director, BRIDGE TO INDIA, said, "Rooftop solar has been a side-story in the Indian solar sector so far but that is beginning to change now. The sector is growing rapidly and beginning to realise its potential thanks largely to increasing cost competitiveness of rooftop solar power vs grid power. We expect rooftop solar to outpace growth in the utility solar market in the coming years. The government has announced attractive policies such as net metering, subsidies for select customers and cheaper debt financing for the sector although there is huge scope for improvement on every front. There is also substantial rooftop capacity being created in the government sector itself."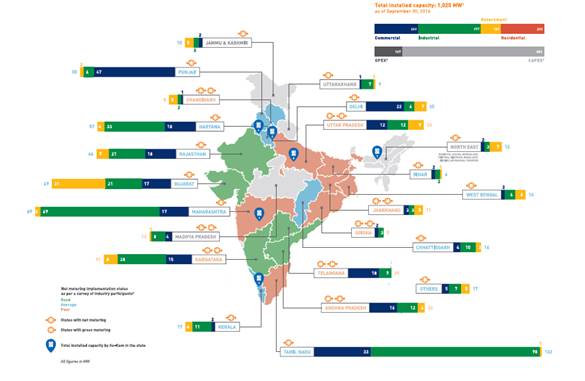 Tamil Nadu, Maharashtra and Gujarat are leading in terms of total installed capacity. With a growing number of government tenders, the government rooftop solar segment has grown to over 10% in total installed capacity.
In all, India Solar Rooftop Map 2016 has highlighted the significant growth witnessed in the rooftop solar sector, presenting a strong case for a bright future for the rooftop solar industry in India.
About BRIDGE TO INDIA:
BRIDGE TO INDIA is a leading consulting and knowledge services provider in the Indian cleantech market. Our multi-functional experience expertise combined with comprehensive in-house research capability enable us to develop insightful and highly sought-after industry analysis. Our overarching goal is to provide customised cleantech solutions and enable innovative business models in India.
We work actively with all leading stakeholders including project developers and investors, energy customers, equipment suppliers, regulators, policy makers and development institutions. We have also helped a number of international top-tier cleantech companies in growing their business footprint in India by providing them with strategic advice, business planning, risk assessment and JV partner selection services.
About India Solar Rooftop Maps:
India Solar Rooftop Map is the country's most comprehensive publication on the rooftop solar segment, with a reach of over 25,000 domestic and international stakeholders. It contains vital market information and identifies key trends and themes in India's burgeoning solar rooftop segment. India Solar Rooftop Map is released at Intersolar Mumbai in November every year