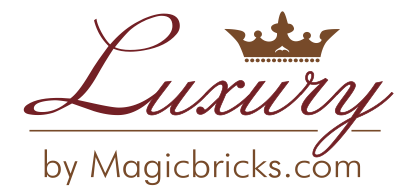 Magicbricks pioneers offering Luxury home listings to cater to the wired high-end property buyer's exacting demands for superlative accommodation
October 2013: Magicbricks has now introduced its Luxury Section offering nationally with a launch covering the top 6 metros in India. The section features 300+ carefully selected luxury property listings – covering both new projects from builders as well as resale listings – Now on offer to Magicbricks' exclusive High Net Worth clientele across the country.
Currently, Magicbricks is the only property portal in India to dedicate a section exclusively to Luxury Real Estate. Pioneering this section to address the luxury home-seeker's needs in India, Magicbricks continues to break new ground and lead innovations in the property portal space.
Launched in beta for 2 cities earlier this year, Magicbricks Luxury is now open to all major locations in India. Given that the buying needs and behavior of this segment is considerably different, the section takes care to maintain exclusivity and high quality of its listings. Here are the top three reasons on what makes this a superior offering for high-end real-estate buyers  –
à      Hand-picked Property Listings – The Exclusivity of the Luxury Section is not just in its users, but also in the properties listed – with only a handful of handpicked homes making the cut from thousands of available listings. The selection criteria is rigorous and based on a number of requisite qualifications including aspects related to build quality, finish, interiors, amenities, budget, etc. Currently only 300 select homes have made it through to the final listings.
à      Certified GENUINE – With all prima-facie antecedents being verified, each Luxury property is Certified GENUINE by Magicbricks. In addition, the latest images of the selected property are photographed and uploaded by a photographer appointed by Magicbricks. This ensures that all listings are GENUINE and what you see on the site is what is there on the ground.
à      Complimentary Assisted Search – A pioneering new service has been launched exclusively to cater to genuine luxury buyers. Each verified buyer is assigned an exclusive customer service agent who will assist the buyer through various steps in his property search – right from identifying relevant properties for the buyer, scheduling site visits, to speaking with builders/landlords, to dealing with various 3rd party service providers – a 1-stop service to help a buyer go through his property search seamlessly.
Mr. Prashant Goyal wrote in his feedback, "I was looking for an apartment in Whitefield.  Even after visiting several agents & browsing through several sites, I could not get what I was looking for. I was then referred to magicbricks' luxury. I finally got options with different configurations, budget, with amazing photos and details. It took me no time to select a couple of properties that I liked… "
"… I also contacted the helpline to know more details about the properties. The team was well informed and gave me what I asked for. On my site visit, I was very impressed to see that the actual specifications were exactly the same as I was told. I now have my own 4000 sq. ft. villa in Whitefield. Thanks to Magicbricks." Mr. Goyal signed off.
Reacting to this feedback, Sudhir Pai, Business Head Magicbricks.com, remarked, "Thanking Mr. Goyal for his valued feedback and hundreds of other similarly satisfied clients, we are happy to finally move Magicbricks Luxury out from Beta and offer it nation-wide. This period from the Beta launch earlier this year to today, has given us the time to fine-tune our offerings, train our teams and build in robust checks & balances to ensure a level of service delivery that discerning luxury buyers expect."
So do come and visit us at Magicbricks Luxury and let us help – See your Dreams turn into Real(i)ty!