India has over 20 million obese adults. This is a direct result of unhealthy eating and a sedentary lifestyle. A staggering 100 million Indians spend about 10 hours everyday, sitting behind screens.
On the other side, about 80 million kids sleep hungry everyday.

The solution is a fitness plus charity app called ImpactRun.
Every kilometer covered (jogged or walked) on ImpactRun raises Rs 10/- for charity.
So now, you can get fit and do good at the same time.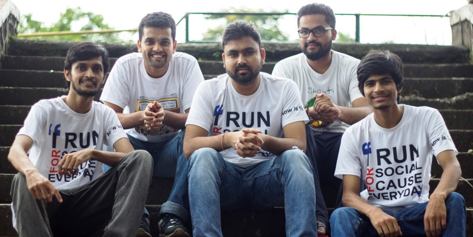 In 10 months since its inception, 1.6 lakh kilometers have been clocked on ImpactRun which have raised Rs 16,00,000/- for charity.
Using these funds, ImpactRun and its partner non-profits have fed 550 hungry kids in shelter homes in Delhi, provided financial assistance to 125 drought-hit farmer families in central Maharashtra, opened a school in Uttarkashi and purchased medicines for 110 Thalassemia major (a blood disorder) kids in Mumbai.
What's most surprising is that this boot-strapped startup is a team of just 6 people with 4 IITB founders.
We asked Piyush Nagle, ImpactRun's tech cofounder about how such a small team copes with the work load. "There's a tonne of work to be done, that's true. But each one of us works like machines on a mission. I'm extremely proud of our clan."
When asked how they came up with such a unique idea, ImpactRun's cofounder Nikhil Khandelwal said, " We wanted to build something meaningful, fun and unique. Also we needed our product to promote healthy user habits. 'Walk or jog for a cause you care' fit in perfectly. "
When we asked Ishan about the mission they are on, Ishan replied, "All of us are trying to affect positive change. At ImpactRun, we honor change-makers. So that what we are creating – A community of change-makers on a kindness app"
3