Chennai, October, 2017: Reaffirming the idea that internet is the new "underground" of fashion; Purushu Arie launched his signature gender neutral fashion label with a rich-media blogpost.  The 26-year-old fashion blogger-designer observes progress as an odyssey of individuality achieved by freedom of choice for self. Purushu's clothing line celebrates individuality by proposing neutrality of race, age, appearance and every other cultural conditioning and differences.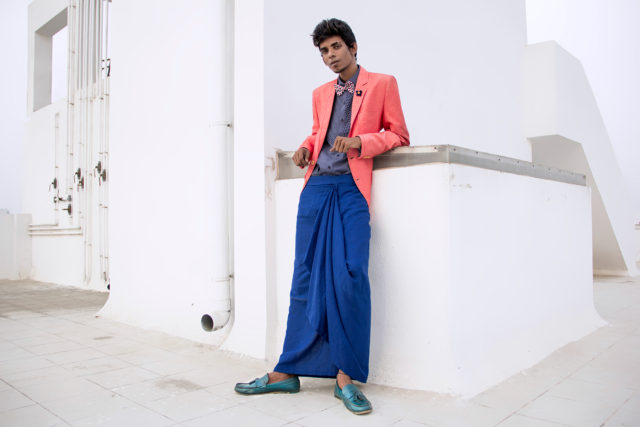 Asserting his commitment to slow and sustainable fashion philosophy, Purushu's unconventional fashion label will retail limited edition ungendered capsule collections in natural handloom textiles.
COLLECTION NOTE: BEYOND BINARY
Beyond Binary envisions birth of non-conforming pluralist energy in a collectivism setting. Absolute opposites of dualism synchronize a spectrum that isn't binary anymore. Binary perspective of black and white is merely polar ends of a larger spectrum shaded in greys. Purushu Arie's capsule collection is a confluence of binary opposites that alters absolutist thought dimensions. Curves and angular lines, pinstripes and ruffles, functionality and vanity, femininity and masculinity – all elements come together in plurality to shape the label's post-Genderism aesthetics.
Unique Japanese cutting techniques are employed to create offbeat utility designs that redefine the "ethnic" image of handlooms in khadi, Madras checks and 100% natural cotton. Purushu Arie's handlooms carry a universal message of neutrality and individuality, thereby strikes a relationship between the fabric and wearer much deeper than skin. Sari pleats and lungi drape recur as the central inspiration throughout. Gathers, ruffles and bell sleeves of vintage Indian sari-blouse lends inspiration to the crop tops which are ergonomically designed to fit both man's and woman's body.  The kara border of veshti is retained on front plackets and hem, weaving together elements of traditional Indian menswear and women's attire to shape the new look of tomorrow.
WAISTBAND LUNGIS
Waistband lungis emerge as the breakthrough pieces in Purushu Arie's latest gender neutral range. The arrival of lungis with waistband revolutionarily alters the functionality of the garment forever. Tie up waistband lungis featuring traditional border go hand in hand with quirkier draped styles in the collection.
Colour Palette: Green evokes the emotions of progress, harmony and fertility.  Natural tones of pickle green, artichoke green, pickle green and sage green rule the colour palette along with shades of royal blue, off white and Indian red. Subtle tones of cider orange, liberty blue and sage green are used in borders and stripes.
Price Range: INR4999 & above.