Going in an operational mode with implementation and completion of ADVAITA IIT Roorkee ERP Digitization Project, IIT Roorkee is set to efficiently transform its processes & systems for operational efficiency, transparency and a better user experience in day-to-day functionalities for the students & administration alike.
IIT Roorkee, 2 September 2016
The very first for any IIT campus in India, IIT Roorkee announced a formal "Go Live" for the implementation of its Wave-I of the ADVAITA IIT Roorkee ERP Technology deployment. The announcement for operationalization of the SAP Enterprise Resource Planning (ERP) project was made at an "ADVAITA: IIT Roorkee ERP Project Go-Live" event held at the Senate Hall, James Thomason Building, at the IIT Roorkee Campus.
On this occasion, Professor Pradipta Banerji Director, IITR said: "In the footsteps of IIT Roorkee heritage and legacy of many firsts, Wave-I of ADVAITA ERP digitization project, we add another feather in the cap of IITR by becoming the 1st IIT in India to have chosen for operational digital transformation across our campuses. It is like embarking on a voyage of self-discovery; let there be no doubt that this is the beginning of a monumental change, that is going to transform the way we perform various processes. A whole new world of possibilities awaits us, like never before; our challenge is, not only to embrace this change unwaveringly, but also to leverage its potential to the fullest."
With this day onwards, for IITR, SAP ERP System becomes the first online system that will start adding value to the some of the core functional aspect like transactions related to accounts payables/disbursements, assets, purchase requisitions, purchase orders, inventory management, accounts receivables and advances, general accounting entries, maintenance orders and projects.
Over a period of time and with completion of Wave-II next year with campus-wide integration, ADVAITA SAP ERP System would help IITR achieve a greater focus on analytics, better and quick decision making, robust and accurate business information, improved financial reporting, and simple easy-to-use interfaces; all of which shall be valued as the system kicks-off on conclusion of the project. The SAP ERP System would empower the IITR workforce leading to eventual devolution of decision making to ease the operational administrative procedures.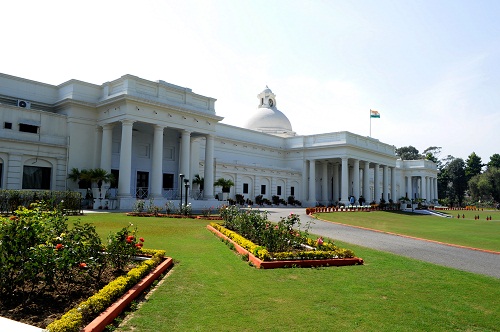 Shirish Phadke, Vice President & Head of India Consulting & System Integration, Atos said: "We are very pleased to be accompanying IIT Roorkee in its digital transformation journey with the implementation of a highly integrated and process driven SAP ERP system. IITR will benefit from the integrated portfolio of Atos services as well as our long-standing, solid experience in both the SAP ERP environment and in the service industry.
The new SAP ERP system is designed to simplify collaboration between various IITR Departments and their interdependence functionalities. With Campus wide deployment and upon completion of the "Wave-I & II" as planned, IIT Roorkee will be empowered to meet any future resource planning requirements faster, with a high degree of flexibly and better efficiencies."
Like any enterprise-wide ERP implementation, ADVAITA: the ERP project has brought in its own unique blend of challenges and opportunities for IITR, but nevertheless, this will enable and empower IITR to adopt industry best practices in areas of financial management, human resources, logistics, Project Systems, plant maintenance among others.
With this go-live, all the broader SAP ERP functionalities are covered in the Wave-I. Since such a largescale deployment involves a significant effort throughout the project, a helpdesk has been established with a joint core team of IITR and Atos to assist IITR users to ensure smooth sailing & sustenance of the ERP system across the IITR campuses.
About IIT Roorkee
IIT Roorkee was established as The Roorkee College in 1847 AD as the First Engineering College in the British Empire. The College was renamed as The Thomason College of Civil Engineering in 1854. Pandit Jawahar Lal Nehru, the first Prime Minister of India, presented the Charter in November 1949 elevating the erstwhile college to the First Engineering University of Independent India. On 21st September 2001, the University was declared an institute of national importance, by passing a bill in the parliament, changing its status from University of Roorkee to Indian Institute of Technology Roorkee. Today on 2nd  September 2016 we are yet on the verge of beginning a new journey towards excellence. IIT Roorkee is one of the biggest technical institutions in the country having the largest number of academic units. We have 21 academic departments covering engineering, applied sciences, humanities & social sciences, and management programs, several academic centers, centers of excellence, world class sports and recreational facilities. We have lush green beautiful and sprawling campuses at Roorkee, Saharanpur and Greater Noida.
About Atos
Atos SE (Societas Europaea) is a leader in digital services with pro forma annual revenue of around 12 billion euros and some 100,000 employees in 72 countries. Serving a global client base, the Group provides consulting & systems integration services, managed services & BPO, cloud operations, big data & cyber-security solutions, as well as transactional services through Worldline, the European leader in the payments and transactional services industry. With its deep technology expertise and industry knowledge, Atos works with clients across different business sectors: defense, financial services, education, chemicals, utilities, health, retail, media and publishing, public sector, manufacturing, telecommunications, transportation and logistics, insurance and defense. The Atos Group combines corporate strategy, information technology and processes, helping clients to sustainably develop their business.
The Group is the Worldwide Information Technology Partner for the Olympic & Paralympic Games and is listed on the Euronext Paris stock market. Atos operates under the brands Atos, Atos Consulting, Atos Worldgrid, Bull, Canopy, Unify and Worldline.
1