Global ad spending at USD 531 billion in 2015, with online ad 27 per cent of the total amount
Number of internet users in Arab world to increase to about 197 million by 2017
Internet advertising expenditure to grow globally at the fastest rate of any medium
GCC internet ads to grow 20 per cent in 2017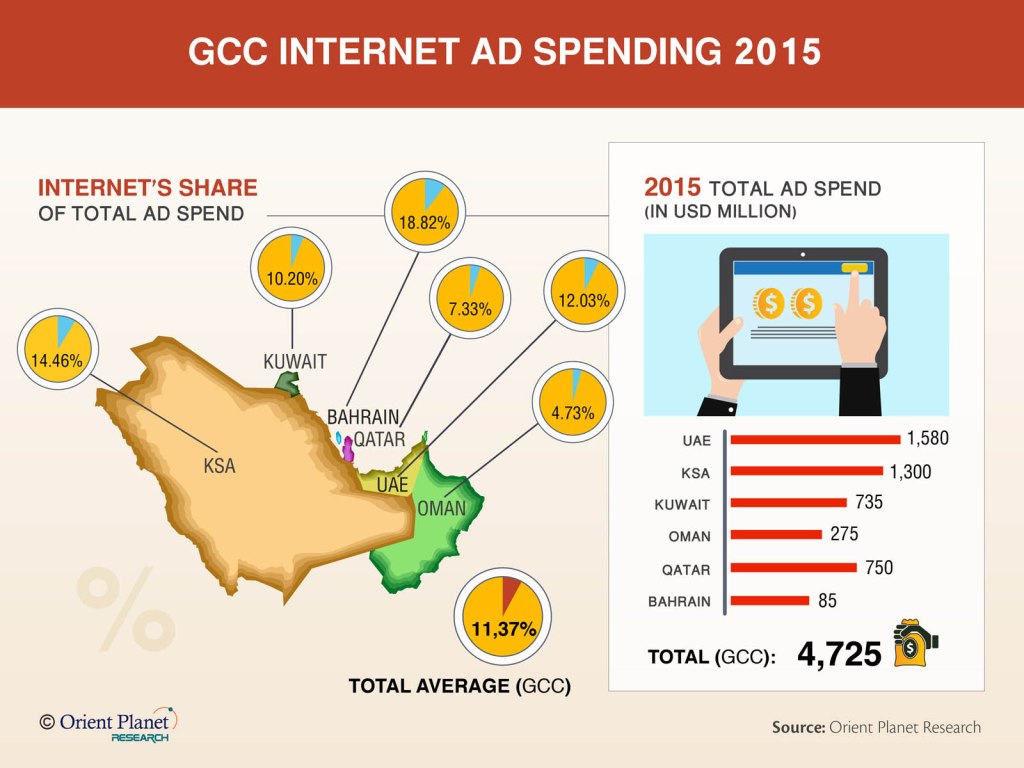 June 26, 2016 –Increased internet penetration in the Arab World has led to a jump in the GCC region's online ad spending for this year with internet ads in the GCC set to grow 20 per cent in 2017, according to a market research report recently launched by Orient Planet Research, an Orient Planet Group venture. The report, entitled, 'GCC Online Advertising Market,' shares that the region's ad spending is poised to grow faster than the world average in the next five years and is set to register a growth of 25 per cent this year.   
According to the study, which outlines key trends in online advertising and e-commerce within the Arab region,Internet advertising expenditure is forecasted to grow globally at a Compound Annual Growth Rate (CAGR) of 11.9 percent till 2020.Global ad spending in 2015 alone has been recorded at USD 531 billion, with online ads making up 27 per cent of the total amount. Internet users in the Arab world are expected to reach 197 million by 2017, this exponential growth complements the study which shows that internet advertising expenditure is expected to grow globally at the fastest rate of any medium.
The report also noted the positive movement of Ad spending within the Gulf region, greatly facilitated by the increasing use of premiere marketing tools and popular social media platforms. The scope of the report includes countries in the Gulf Cooperation Council namely Bahrain, Kuwait, Oman, Qatar, Saudi Arabia and the United Arab Emirates. It also outlines trends affecting the advertising sector in the GCC, which is supported by statistics, and presents insight on the size and growth of this marketing tool in the region.
Abdul Kader Al Kamli, Research Consultant, Orient Planet Research, said: "Organizations are slowly realizing the importance of cultivating their online presence, which is no longer a luxury, but a necessity in today's increasingly more technological society. The shift towards a more knowledge based society has also driven growth in the market, and the rise of innovative programs has shown organizations how their company can greatly benefit from using online advertising to promote their products and services The Middle East has been experiencing exponential growth in online advertising spend, over the past few years, which is set to continue in the next few years. This is largely a result of the increased internet penetration in the Arab World, with recent studies noting that the number of Internet users in the Arab region is expected to increase to about 197 million by 2017.
Organizations' have learned to capitalize on significant number of internet users to promote their products and services in an efficient yet cost-effective manner. The valuable insight within this report will allow organizations and key decision makers to have an overview of trends within online advertising which could help in their strategic development and provide strong competitive advantage," concluded Al-Kamli
The internet continues to provide companies with an ideal and cost effective platform to reach a wider network of prospective customers. As one of the most inexpensive marketing tools available today, businesses have found online advertising to be essential to their operations. As internet penetration continues to rise, and technology becomes a more integrated aspect of everyday life, online advertising proves itself to be more effective than traditional media channels.
1