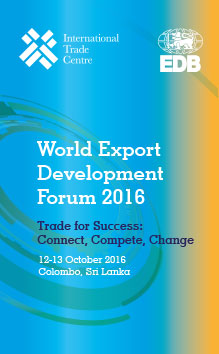 (Colombo/Geneva) – The 16th World Export Development Forum (WEDF) was today opened by President Maithripala Sirisena in Colombo, Sri Lanka. Welcoming the more than 600 delegates attending the WEDF opening ceremony at the Bandaranaike Memorial International Conference Hall.
Joining the President on stage was Sri Lanka Prime Minister Ranil Wickremesinghe, Minister of Development Strategies and International Trade Malik Samarawickrama, State Minister Sujeewa Senasinghe, ITC Executive Director Arancha González and Indira Malwatte, Chairperson and Chief Executive of the Sri Lanka Export Development Board (EDB).
'WEDF comes at an opportune time, when the Government of Sri Lanka has decided to refocus on growth and exports,' said Prime Minister Wickremesinghe. 'People want income and jobs, and these can only come through exports. In response, we are aiming to make Sri Lanka a main trade hub for the Indian Ocean, a centre for facilitating business, finance and logistics.'
'ITC is extremely pleased to host WEDF here in Colombo in partnership with the Export Development Board and to make trade happen,' Ms. González said. 'Over two days, we will look at how governments can help trade and investment by improving the business environment. We will look at how trade and investment support institutions can provide targeted services to help businesses internationalize.'
The first day of WEDF also included interventions by Wang Shouwen, Vice Minister, Ministry of Commerce, China, Péter Szijjártó, Minister, Ministry of Foreign Affairs and Trade, and Shamshad Akhtar, Executive Secretary, United Nations Economic and Social Commission for Asia and the Pacific. Baroness Patricia Scotland, Secretary-General of the Commonwealth sent a video message to participants.
More than 600 policymakers, business leaders, and officials from trade and investment support institutions (TISIs) from across the world have convened in Colombo for the two-day event to explore how to achieve sustainable and inclusive economic growth through trade. In parallel to the high-level debates, a series of business-to-business matchmaking events will be held over the two days, allowing participants to create business linkages across sectors and across countries.
'Hosting WEDF is of special significance to Sri Lanka and sets out to reap benefits for both public and private sector,' Ms. Malwatte said. 'Through WEDF we aim to open up to and expand into new markets, and capitalize on new trade avenues.'
The theme of WEDF 2016, 'Trade for Success: Connect, Compete, Change', reflects the importance ITC and the Government of Sri Lanka attach to the role of enterprises in trade and job creation. In Sri Lanka and elsewhere, small and medium-sized enterprises (SMEs) form the backbone of the economy, representing over 90% of all business and contributing to two thirds of global employment.
Speakers in Colombo are addressing challenges and opportunities faced by SMEs in developing countries and economies in transition. They will explore how these businesses, which account for the bulk of employment around the world, can be empowered to use international trade and investment to drive growth and job creation.
The two-day event will consist of four plenary sessions and four parallel breakout sessions, alongside structured and informal B2B meetings aimed at enabling participating SMEs to meet potential customers, suppliers and investors.
In addition, a series of 'In Focus' sessions will be held to explore how young entrepreneurs can take their ideas to markets, how to help connect women entrepreneurs to markets, improving managing logistics in the supply chain, and how to go digital.
Previous editions of WEDF have been held in Doha, Qatar (2015), Kigali, Rwanda (2014), Jakarta, Indonesia (2012), Istanbul, Turkey (2011) and Chongqing, China (2010).
For more information on WEDF 2016, including the programme and registration, please visit http://www.intracen.org/wedf and http://www.wedf.edb.gov.lk
About ITC
ITC is the joint agency of the World Trade Organization and the United Nations. ITC assists small and medium-sized enterprises in developing and transition economies to become more competitive in global markets, thereby contributing to sustainable economic development within the frameworks of the Aid-for-Trade agenda and the United Nations' Global Goals for Sustainable Development. For more information, visit www.intracen.org. Follow ITC on Twitter: @ITCnews
About EDB
The Sri Lanka Export Development Board, is Sri Lanka's apex organization for the promotion and development of exports and was established in 1979 under the Sri Lanka Export Development Act No. 40. EDB is the executive arm of the Export Development Council of Ministers, which is the policy-making body of the EDB, and is headed by H.E. the President of Sri Lanka.
1