593 Students Convocate With 8 Bagging Gold Medals
IIMB becomes the first IIM to award Master of Business Administration to its graduating 2-year programme students
17 March, 2018, Bengaluru: "Today, 593 students have graduated: 20 students from the Fellow Programme in Management, 22 from the Post Graduate Programme in Public Policy and Management, 71 from the Post Graduate Programme in Enterprise Management, 1 from its earlier avatar called the Post Graduate Programme in Software Enterprise Management, 73 from the Executive Post Graduate Programme in Management, and 406 from the Post Graduate Programme in Management," announced Professor G. Raghuram, Director, IIM Bangalore, at the institute's grand 43rd Annual Convocation ceremony, held on March 17, 2018.
The students graduated from the prestigious institution this year in the presence of chief guest Shri Ajay Piramal, Chairman, Piramal Group and Shriram Group, Professor G. Raghuram, Director, IIMB, Board members including Shri N S Raghavan, and members of the faculty. The graduates were cheered by their proud families too, many of whom had made the trip to Bengaluru to capture the joyous moment forever.
Congratulating all involved for the historic passing of the IIM Act, IIMB Director G Raghuram said, "IIMB has taken the lead in moving towards grant of degrees. Today we can grant degrees to the Post Graduate Programme in Management students. For the other programmes, we need to go through an exercise to see how best they can fit into a degree-granting mode."
While listing student achievements, Prof. Raghuram made special mention of the Fellow Programme and Post Graduate Programme in Enterprise Management. "This is the third year in succession – a hat-trick—that we have 20 students graduating from the Fellow Programme. This year is also very special for our Fellow Programme as the 250th student just graduated. I would also like to mention that our Post Graduate Programme in Enterprise Management celebrates 20 years and has just graduated 1500 executives".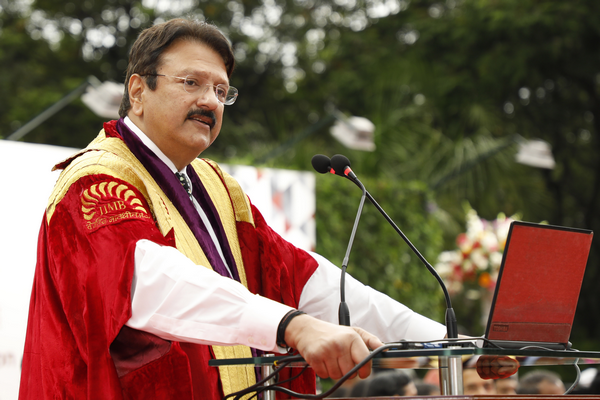 Wishing the graduating students success, he said: "Follow your dreams and do see how a larger contribution to society can fit into that. And come back. As often as you can. Contribute in whatever way you can to the growth of our dear IIMB as we move on our journey to foster excellence in management, innovation and entrepreneurship."
Among the graduating students this year, eight have been awarded gold medals. Out of the eight gold medallists this year, two are women.
In PGP (Batch 2016-18), Pratik Anand, Umang Mehta and V Vageesh received the gold medals for first rank, second rank and best all round performance, respectively.
In PGPPM (Batch 2017-18), Richa Valechha has won the gold medal for best academic performance.
From PGPEM (Batch 2016-18), the gold medal for first rank and for best all round performance went to Gaurav Kumar and Sunil Kumar Vaya, respectively.
In EPGP (2017-18), Pragya Dalmia has won the gold medal for first rank, while Jigar Doshi has won it for best all round performance.
Earlier in the evening, Board member NS Raghavan, who is also patron of IIMB's incubation hub, the NSRCEL, in his address, highlighted the institute's milestones during the academic year 2017-18. "IIM Bangalore has a remarkable history of contributions to the Indian society and economy, and aims to provide the best management education to its students enabling them to support important national initiatives and also enhance the institute's position globally. The IIM Act brings in a lot of autonomy but also much bigger responsibilities. We will now be held accountable for higher levels of transparency, governance and global positioning. I am sure that our students will continue to strive to make India a respected and pre-eminent country in the world."
He also spoke about the global rankings IIMB has achieved, IIMB's Women in Management Club which aims to promote gender equality through talks, summits, panel discussions, workshops, informal meets, networking events and mentoring sessions, and the school's initiatives on gender diversity. "In both PGP and EPGP at IIMB, women constitute almost 30 per cent of the class. This is very gratifying and heart-warming and I do hope that this number will continue to grow in the coming years."
To the graduating students, he said: "You are a vital component of the new generation of Indians that will shape our country's destiny, improving the lives of our fellow citizens and enhancing our country's position and status in the world. Please realize that you are entering the world at the most exciting time in our history. So grab the opportunity with both hands, make a difference and bring laurels to yourself and to your alma mater."
In his inspiring address, Ajay Piramal, who was the chief guest at IIMB's 43rd annual convocation, recollected his learnings from his own college days. "When I was in Jai Hind College in Mumbai, it was not just academics, but the motto of the college that made a deep impression on me. That motto was: I will and I can."
He said that for any individual to be successful, a few life lessons are vital. "First, there should be a deep driving desire, followed by action and deed, which in turn will make and fashion your destiny. If you are passionate about something, you will develop the will and ability to do it. That has been the kernel of thought in our group too".
Elaborating on that, he said: "In 1988, when we entered into the pharmaceutical industry (our group was traditionally into textiles), our rank was 48 in that industry. By year 2000, because of our will and determination, and how we worked based on that, we became Number 5."
He said that the second lesson he learnt and wants to share is that we need to have the courage to go on the path less travelled if we were to make exceptional growth in our careers. "You need to take the risk, even suffer pain at the initial stages. But in the long run you will be the beneficiary". He cited the examples of Bill Gates and Jamshedji Tata, who he said acquired exceptional success by following that path. "When our group made an entry into lending to real estate that was also a value creating decision".
"The third lesson is that your judgement has to be value based in business, and that will create economic value in the long run. Even in short term, appreciate that values will create economic value in your career".
He went on to say: "Another vital element for success is that you need to have association with good people and mentors to overcome the slippery slopes of life".
"Next, you need to prioritize your life – first your health, then your family, and then your business or profession".
"Last but not the least, do have a sense of gratitude at all the privileges that you are getting. Therefore, have an obligation to give back to society".
Despite a smattering of rain on this March evening while the Convocation ceremony was in progress, the graduating students were not deterred, and they egged everyone on to have the ceremony continue at the Open Air Theatre, despite alternative arrangements being in place. And continue it did at the OAT, amidst much cheering and bonhomie.