Shillong, August 8, 2016: IDFC Bank today launched its services in Meghalaya, opening its first branch in the capital city of Shillong and setting up first-of-its-kind interoperable micro ATMs in the state's rural locations.
This is IDFC Bank's first step in establishing its presence in the North East and expanding reach to the region's under-banked rural and semi-urban locations.
The branch was inaugurated by Mr. Prestone Tynsong, Hon'ble Minister for Community & Rural Development, Border Areas Development, Forest & Environment & Parliamentary Affairs, Government of Meghalaya, in the presence of Dr. M. Ampareen Lyngdoh, Minister for Urban Affairs, Municipal Administration & Labour, Government of Meghalaya, and Mr. Ravi Shankar, Head – Bharat Banking, IDFC Bank.
Speaking on the launch, Dr. Rajiv Lall, Founder Managing Director & CEO, IDFC Bank, said, "IDFC Bank has chosen to establish presence in the North East in its very first year of operations. This shows its intent to achieve inclusive growth by expanding financial access in under-banked locations. The Bank's plans for Meghalaya will be shaped by the state's goal of financial inclusion. IDFC Bank will bring to citizens of Meghalaya, the convenience of doorstep banking, customised financial products and increased access to capital for micro, small and medium businesses.
IDFC Bank's branch, located in Shillong's Demseiniong area, is powered by a custom-designed solar power system.
IDFC Bank's innovative Interoperable Micro ATMs are designed to make banking simpler and more accessible across Meghalaya. The first few Micro ATMs are now operational in Mawlyngbna, a hamlet on the Indo-Bangladesh border and Umsning.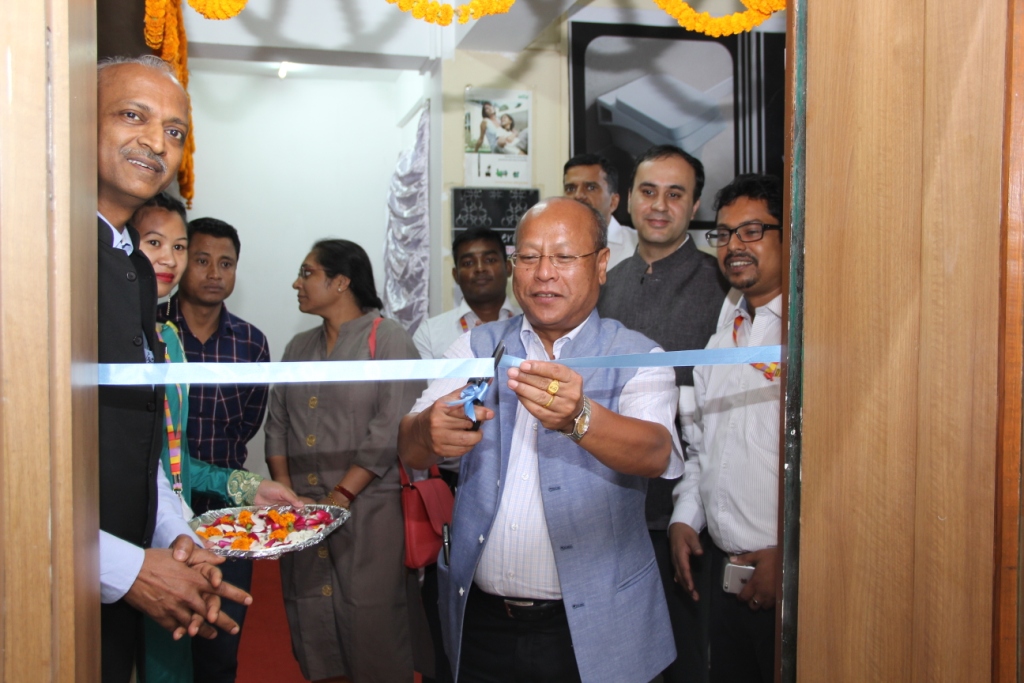 The Micro ATM enables citizens to transact from the comfort of their neighbourhoods, while also encouraging local entrepreneurship. The device, which functions like a 'Bank in a box' enables digital transactions for customers of any bank. It also provides instant account opening and activation, working on multiple identifiers including mobile numbers, debit cards, bank account numbers or Aadhaar.
IDFC has been working with the Government of Meghalaya since 2012, initially in an advisory role, and subsequently implementing projects funded by IDFC Foundation. Last year, through IDFC Foundation, it implemented a solar street lighting project in Mawlynnong and Mawlyngbna village. IDFC Foundation is currently working on a drinking water and micro-hydel project at Mawlyngbna village.
IDFC Bank currently has a network of nearly 70 branches, of which 50 are in unbanked rural and semi urban locations in Madhya Pradesh, Karnataka and Andhra Pradesh. To deepen financial inclusion, the bank is placing special focus on segments such as marginal farmers, micro enterprises and the self-employed.
The Bank's interoperable micro ATMs have gained popularity across geographies where it has a presence, being used by retail shops, dhabas, chemists, panchayat offices and entrepreneurs. The concept has been particularly successful in Andhra Pradesh where the bank was the first to enable Direct Benefit Transfer (DBT) such as pensions; and cashless PDS payments, through its partnership with the state government.
About IDFC Bank:
IDFC Bank (BSE: 539437, NSE: IDFCBANK) is a subsidiary of IDFC Ltd (BSE: 532659, NSE: IDFC). Headquartered in Mumbai, IDFC Bank is a universal bank, offering financial solutions through its nationwide branches, internet and mobile. Envisioned as a new age bank, IDFC Bank seeks to set a new standard in customer experience, using technology and a service-oriented approach, to make banking simple and accessible, anytime and from anywhere. In keeping with IDFC's legacy of building the nation, IDFC Bank will focus on serving the rural underserved communities and the self-employed, while continuing to support the country's infrastructure sector. IDFC Bank provides customized financial solutions to corporates, individuals, small and micro-enterprises, entrepreneurs, financial institutions and the government. With best-in-class corporate governance, rigorous risk management, experienced management and a diversified team, IDFC Bank is uniquely positioned to meet the aspirations of its customers and stakeholders. www.idfcbank.com or Twitter, Facebook and LinkedIn