27th June, Hyderabad 2017: IDBI Federal felicitated Kidambi Srikanth and HS Prannoy at an event held at Pullela Gopichand Academy in Hyderabad. Karthik Raman, Chief Marketing Officer, IDBI Federal,  presented the prize money under their programme,'Quest For Excellence' with Pulella Gopichand.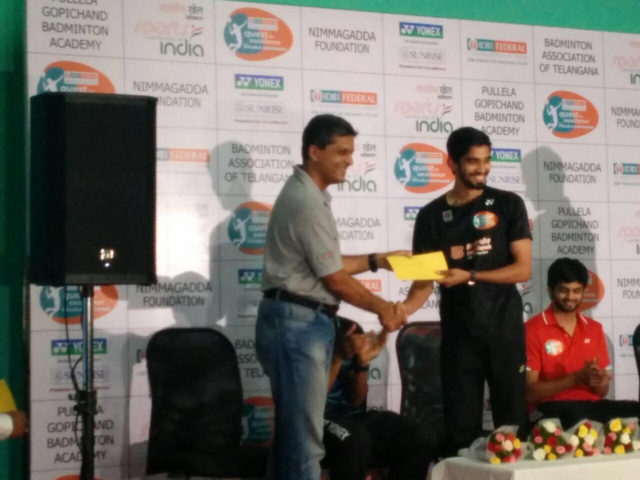 Says, Karthik Raman, Chief Marketing Officer, IDBI Federal, "By winning two titles in two weeks, Srikanth is slated to break into top 10 rankings next week. He has made the country proud by this historic feat. This victory and even our performance at Super Series final and India Open earlier this year, clearly go to prove that Indian Badminton is in top form today. Nobody could have predicted these wins; however, today the entire country echoes our confidence in Gopi's leadership and prowess as a coach. We are confident that Quest For Excellence will prove to be a great support to the sport and will help bring many laurels for our country."
Kidambi Srikanth was presented with prize money of Rs.  3 lakh for Indonesia Open win and another Rs. 3 lakh for Australian Open achievement.He was presented prize money of Rs. 6 lakh in total by IDBI Federal. HS Prannoy was presented with a prize money of Rs. 2 lakh for Indonesia Super Series Premier semi-final win.
About Quest for Excellence:
IDBI Federal's 'Quest for Excellence' Initiative with Pullela Gopichand initiative supports country's vision of creating world-class badminton players to represent India at international tournaments and bring back laurels for the country, including the 2020 Olympics in Tokyo, Japan.