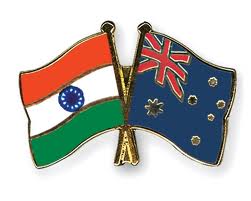 The Union Finance Minister Shri P. Chidambaram said that India-Australia bilateral partnership which was raised to the level of strategic partnership in 2009 has led to a rapid expansion in trade and investment ties between two countries, strengthening of our common interest in a stable and outward looking India-Pacific region, a growing collaboration in multilateral and regional forums and fast growing people to people ties. The Finance Minister Shri Chidambaram was speaking while welcoming the visiting dignitary Mr. Wayne Swan, Deputy Prime minister and Treasurer of Australia when the later called on Shri Chidambaram in his office today.
The Union Finance Minister Shri P. Chidambaram said that our economic partnership has also shown significant growth. He said that the trade between our two countries has more than doubled in the past six years to more than $20 billion. The Finance Minister said that our investment in Australia has also been increasing and a large number of Indian IT companies have made their presence in Australia and are growing.
The Union Finance Minister Shri P.Chidambaram said that in terms of inward investment, Australia is currently the 20th largest investor in India. He said there is a huge opportunity for increase in investments from Australia into India particularly in sectors like mines and minerals based industry, clean and renewable energy, energy agro based and food processing bio-technology, engineering and manufacturing, and marine and fishery among others. The Finance Minister said that in the last five months, the Indian Government has taken several measures to being the economy back through pursuing fiscal consolidation and addressing concerns on alleviated inflation and external sector vulnerabilities and increasing investors' confidence. He said that we are working towards clarity in our tax laws, to have a stable tax regime and non-adversial tax administration and fair mechanism of dispute regulation. These have been very well received by both the foreign and domestic investors, market and public at large, the Finance Minister added.
The Union Finance Minister Shri P. Chidambaram informed the visiting delegation that there is big opportunity for Australian companies for an investment in India especially in infrastructure sector. He said that the Government has taken several measures for augmenting infrastructure financing which include allowing setting- up Infrastructure Debt Funds (IDFs), tax free bonds of US $ 12 billion during the current year, liberalization of external borrowing regime, especially to part finance rupee debts of existing power projects and reduction in withholding tax on interest payments on borrowing by Indian companies from outside the country which has been reduced from 20 percent to 5 percent among others.
In his address, the Australian Deputy Prime Minister, Mr. Wayne Swan welcomed the suggestions of Indian Finance Minister and assured full cooperation from their side. He suggested for productive enhanced measures to boost production especially in agriculture sector. He agreed with the suggestion of the Indian Finance Minister that G-20 should strive hard in reviving and stimulating world growth so that developing and emerging economies can also, in turn, benefit and increase their growth prospects accordingly. Mr Swan also agreed that there is a need to bring the focus back on Doha Round of talks which have gone in background recently.
Led by the Finance Minister, Shri Chidambaram, the Indian side also included Shri Arvind Mayaram, Secretary, Department of Economic Affairs(DEA), Shri Shakti Kant Das, Additional Secretary, DEA among others, while Mr. Wayne Swan, Deputy Prime Minister LED Australian side included Ms. Caitlin Phillips, Policy Adviser, Mr. Jackson Mcdonald, General Manager, International Economic Division and Mr. Lachan Strahan, acting High Commissioner among others.