Partnership to focus on further strengthening resellers to market and promote products and/or services in areas of Enterprise Network, Wireless and cloud communications to Huawei's enterprise customers in India
Riding on its global expertise and customer centric approach, Huawei pans its focus on sectors like Public Sectors, BFSI, Energy Infrastructure, SMB, ISP and Smart Cities in India
Bringing its Platform + Ecosystem strategy into play, Huawei further expands its channel partner network in India
[New Delhi, March 12, 2018] Huawei Enterprise Business Group (EBG) today announced its partnership with Savex Technologies to further strengthen its partner network and grow its enterprise footprint in India. Aligned to its global strategy of 'platform + ecosystem', the intent is to create maximum value for Indian enterprises with its innovative ICT solutions and services backed by string ecosystem.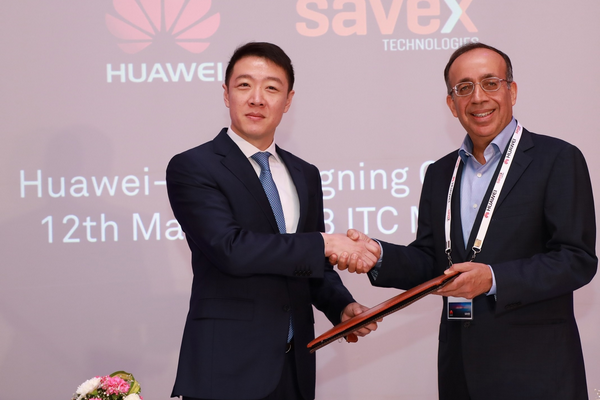 As part of this partnership, Savex will support Huawei in developing resellers to market and promote products and/or services products to Huawei enterprise customers in India. Savex is the third largest Information and Communication Technology Distributor in India and as a part of this strategic tie-up, will be responsible for Huawei's channel partner network technical training and development
Further elaborating on the partnership, Mr. Derek Hao, President, Enterprise Business Group, Huawei India said, "ICT today plays the role of a catalyst in transforming and upgrading traditional industries and with that, enterprise systems are becoming business functions rather than support functions. Enabling digital transformation for industries, Huawei Enterprise BG can strategically drive the progression of digital and intelligent society. Furthermore, the Government of India and extensively benefit from Huawei EBG India for its landmark initiatives like Digital India and Smart Cities. Aiming at creating a smart and digitally active society, Huawei's enterprise products and solutions is designed to lead India into a new digital age."
Commenting on the partnership, Mr. Anil Jagasia, Managing Director of Savex said, "We are looking forward to this partnership, as Huawei is known for its great enterprise products and this complements our offerings to channels. This mutually benefitting partnership will allow us to reach out to pan India and we intend to take full advantage of their product portfolio."
Under its global "platform+ ecosystem" strategy, Huawei Enterprise BG aims to create an open, resilient, secure, and flexible platform of ICT infrastructure by continuously investing in new technologies such as cloud computing, the Internet of Things (IoT), Big Data, mobile broadband and artificial intelligence. Huawei is also focusing on creating a collaborative ecosystem for mutual benefits, and work with partners to help customers achieve successful digital transformation of industries and government to develop next level digital infrastructure.
Huawei Enterprise BG has increasingly gained recognition from customers and partners, with 43 enterprises of Fortune 100 choosing Huawei as their partner for digital transformation. In 2016, Huawei Enterprise BG has achieved rapid growth in vertical industries. Huawei's Smart City solution has been successfully deployed in more than 100 cities in over 40 countries. In the finance sector, Huawei served more than 300 financial institutions across the globe, including six of the world's top 10 banks. In the energy industry, Huawei became the only ICT solutions provider among the members of the Global Energy Interconnection Development and Cooperation Organization (GEIDCO) and Huawei's Better-Connected Grid Solution has served over 170 electric power companies in 65 countries across the world. In transportation, Huawei cooperated with more than 60 industry partners to serve railways and highways with a total track length of 220,000+ km and more than 15 airports with annual throughput higher than 30 million passengers. In manufacturing, Huawei worked with KUKA and ABB to promote industrial upgrading to achieve intelligent manufacturing. By the end of 2016, Huawei Enterprise BG had more than 12,000 global channel partners, over 2,000 service partners, and beyond 400 solution partners.
About Huawei
Huawei is a leading global information and communications technology (ICT) solutions provider. Our aim is to enrich life and improve efficiency through a better-connected world, acting as a responsible corporate citizen, innovative enabler for the information society, and collaborative contributor to the industry. Driven by customer-centric innovation and open partnerships, Huawei has established an end-to-end ICT solutions portfolio that gives customers competitive advantages in telecom and enterprise networks, devices and cloud computing. Huawei's 180,000 employees worldwide are committed to creating maximum value for telecom operators, enterprises and consumers. Our innovative ICT solutions, products and services are used in more than 170 countries and regions, serving over one-third of the world's population. Founded in 1987, Huawei is a private company fully owned by its employees.
For more information, please visit Huawei online at www.huawei.com