Surely you have needed a logo on occasion and you have not known how to do it. DesignEvo is a free online application that will help you to generate a logo design in a very easy way. Before using it, let's know more about it.
Requirements to create a logo with DesignEvo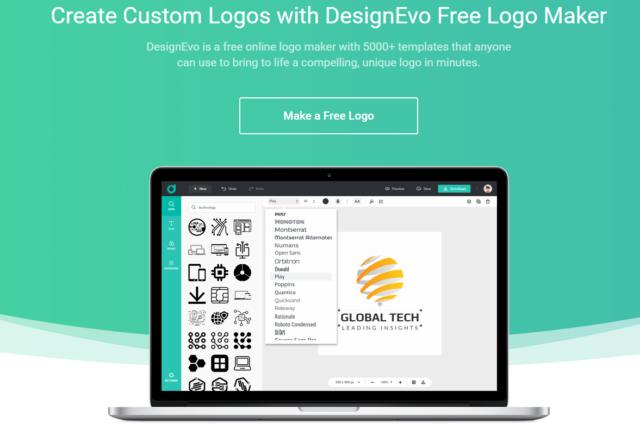 The first thing is to have an internet connection, since the tool is online and does not need any installation. DesignEvo is compatible with almost all modern browsers for Mac, Windows or Linux computers. To get a perfect performance, it recommends using it with Internet Explorer version 10.0 or higher, Firefox 10.0 or higher, Safari 7.0 or higher, or Google Chrome 14.0 or higher.
In addition, DesignEvo gives multi-device support and you can use it on your Mac, iOS and Android devices.
Once the technical problems are solved, the only additional requirement is to have a little imagination and a bit of creativity. If not, no problem. DesignEvo offers 5000+ professionally designed logo templates.
How does DesignEvo work?
This tool offers the possibility of playing with three types of elements, which we can scale proportionally, without loss of quality. Until we download the logo, we work with vector images.
In addition, it allows selecting the type of fill, solid or gradient color, and the possibility to choose between all web colors that exist in hexadecimal format.
For the novice with not too much technical skills and lacking of imagination, just choose an already made logo design and make some little changes like color, size, position, that's fine.
Next, I list some qualities of the program that we will have when entering the application:
Registration: It is not necessary to register and the tool is completely free.
Language: English, Japanese, Spanish, Portuguese, Chinese(Simple & Traditional) and German.
Elements available to combine:
More than one million icons to choose and combine.
More than a hundred different fonts.
Various elements and shapes for our creations.
Tools available:
Choice of custom colors
Reflection and tilt of the icons
Background color
Transparency control
Basic editor for fonts
Expansion and reduction of the work table
Grid activation
Size of the obtained image: We can choose a size between 32x32px and 2000x2000px at screen resolution.
File Formats: We will obtain 3 files, JPG, PNG and transparent PNG.
Why do you need DesignEvo
If you need to make a logo, but have difficulties to control tools like Illustartor, Corel Draw and Photoshop, DesignEvo is just the choice for you. Or if you have to make a logo with some icons for a website, some simple cards, a banner or the header of a website, it also is an impressive tool before us.
It becomes the ideal resource to generate icons of sections, images of headers, logos for small businesses and with a good result.
Panels and tools options
In the header part we find the following options:
+New: Start a new logo design.
Undo and Redo: Controls the changes we make.
Preview: Place the result of the work on several supports to see the final effect.
Save: Save your work as project file for further editing.
Download: Provides a compressed file with several formats (.jpg, .png and .png transparent).
In the lower part we have several very useful options:
Document size: From 32x32px to 2000x2000px, it can be modified at any time.
Display: Size of the screen view, from 10% to 200%.
Grid: Enables or disables a grid to have a reference of the position of the objects.
Layout: Place the elements in a pre-established way.
In the left part we can use these tools:
Icons: Search icons from the over one million ones.
Text: Add company name and slogan to your logo design.
Shape:Customize the logo with all kinds of preset shapes like lines, banners, symbols, etc.
Background: Change the color of the background, where we can choose a solid color or a gradient.
Wheel options: To choose the language and get help.
Have a clear understanding to DesignEvo? What are you waiting for to create your personalized logo? Access from here and make your first logo now.
1