1200+ Exhibitors Showcase Creative Designs & Products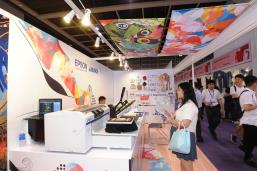 4 July 2016 – Featuring more than 1,200 exhibitors from 18 countries and regions, the 23rd HKTDC Hong Kong Fashion Week for Spring/Summer opened today and continues through 7 July at the Hong Kong Convention and Exhibition Centre (HKCEC). The fair is organised by the Hong Kong Trade Development Council (HKTDC), showcasing the latest fashions, international brands, garments, fabrics and accessories.
Under the theme "Garden Breeze", Fashion Week features over 20 events including fashion parades, designers' collection shows, house shows, trend forecasting seminars, forums and networking events. Together, they provide a full spectrum of business insights and spotlight the hottest designer collections. This year's fair welcomes newcomers from Bangladesh, Italy, the Netherlands, and the Philippines. Six group pavilions are set up to represent key fashion markets such as the Chinese mainland, India, Japan, Macau and Thailand.
Fashion tech on parade
To create business opportunities for exhibitors, a total of 91 overseas buying missions are organised to bring over 5,100 buyers from 45 countries and regions to the fair. These include representatives from renowned fashion labels, mega chain stores and major distributors, including Forward from Russia, HARDTOFIND from Australia, H&M from the Chinese mainland, Jaspal from Thailand, MODAS GAEBEL from Spain, TRICYCLE from South Korea, V-Mart Retail from India and World Co from Japan.
Fashion Week offers a number of themed zones for easy sourcing of products in trending sectors. New zones include 'Fashion Tech', 'Footwear, Leggings & Socks', 'Knitwear' and 'Womenswear'. Elsewhere, 'Emporium de Mode' promotes leading fashion brands, 'Fashion Gallery' gathers a wide array of high fashion items and the 'International Fashion Designers' Showcase' displays designer collections from around the world.
Responding to the growing popularity of sourcing in small orders, Fashion Week continues to feature the hktdc.com Small Orders display, featuring more than 100 garment racks, and targeting buyers looking to source products in minimum quantities from five to 1,000 pieces.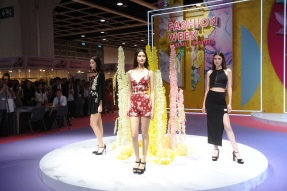 At the inaugural Fashion Tech zone, Epson Hong Kong Ltd is showcasing a series of cutting-edge digital textile inkjet printers and dye sublimation printers. Epson has teamed up with famous Japanese designer Kansai Yamamoto since 2013 to print his stunning creations onto a variety of textiles, including polyester, silk and cotton.
Another exhibitor, The Hong Kong Research Institute of Textiles and Apparel (HKRITA), is displaying award-winning textile innovations. Their projects, which won acclaim at the International Exhibition of Inventions of Geneva, include a method of turning food waste into biodegradable polylactic acid fibres, and the application of recyclable solvents during the fabric dying process to reduce water consumption by about 90 per cent compared to conventional methods. HKRITA is also showcasing other sustainable approaches on textile technology, such as a sustainability measurement tool for the fashion industry.
Other exhibitors include Matara, a jewellery brand based in Thailand, which is promoting its signature collection of local artisan-crafted rings, earrings, bracelets and necklaces. The earrings are designed with pearls placed inside silver cages, signifying true beauty found within every woman. MIDOTI, a local jewellery design brand, is launching its 'Knot Lots Collection' at the show. The collection uses soft metal weaved using German technology, and is characterised by its minimalistic lines.
Young talent shines through
Throughout the fair period, a series of exciting house shows and fashion parades, including impressive collections by debut designers and students, are helping to introduce fresh creative talent to international buyers.
The graduation parade of the Chinese University of Hong Kong's School of Continuing & Professional Studies, was held at the fair earlier today. The Hong Kong Polytechnic University also held a lingerie show today, ahead of its graduation show on 6 July. Meanwhile, students of the Technological and Higher Education Institute of Hong Kong will be in the limelight tomorrow when they hold their graduation show. Another highlight tomorrow will be a fashion show by the Macau Productivity and Technology Transfer Centre.
Meanwhile, several designers including Eric Choong and designers of the Cidi Chanapatana International Design Institute from Thailand, Jo Disaya from Australia and Samantha Giraud from Hong Kong took part in today's Designers' Collection Show, dazzling the audience with their latest creations.
Fashion Forecasting
A total of seven seminars and forums are arranged throughout the fair. Forecasting experts from WGSN and Fashion Snoops will be leading two seminars examining the trends for autumn/winter 2017/18, while HKRITA will be sharing eco-friendly solutions during the seminar titled "Fashion Sustainability—From Product Development to Manufacturing". Branding in the Internet era will be analysed during the seminar on "Tips to Stand Out Your Brand in E-tailing Era" tomorrow.