Tata subsidiary to showcase Tal Brabo, India's first "Made in India" robot at the 11th edition 
The month of November will see the who's who of the automotive sector in Chennai at the 11th edition of Automotive Engineering Show (AES). Scheduled to take place from 9 – 11 November 2017, this key business event will be a prominent platform for technology leading companies to showcase effective engineering solutions that fit suppliers in the automotive manufacturing domain. AES is India's only trade fair focused on automotive manufacturing. The previous editions of the fair have already gained remarkable support from associations and ministries within the industry and the state of Tamil Nadu. Continuing to extend a strong support to the platform, the 11th edition will be inaugurated by Thiru M.C. Sampath, Minister for Industries – Industries, Steel Control and Special Initiatives, Government of Tamil Nadu amongst other important dignitaries of the automotive industry showcasing akin backing.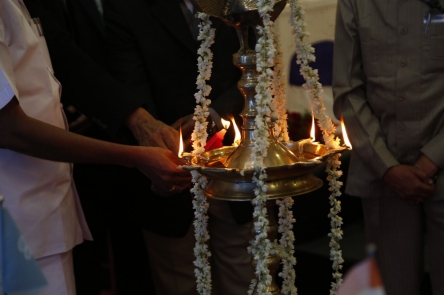 Automotive Engineering Show will play host to over 75 exhibitors who will present world class solutions for OEM and auto component manufacturers aiming to boost the efficiency of work flow within the factories. The companies exhibiting these advanced solutions will also conduct live demonstrations at the trade fair making their purchase decision easy.
One of the major highlights is the live demonstration of Tal Brabo, India's first articulated Industrial Robot. Tal Manufacturing, a subsidiary of Tata Motors will be launching two variants of the robot at the Automotive Engineering Show in Chennai. As per the company, these indigenously developed robots are proud "Make in India" products developed to provide cost effective solutions to the automotive, light engineering, precision machining, electronics, software testing, plastics, logistics, education and engineering industry. Tal Brabo, famously known as India's first designed and conceptualised robot is sure to catch a lot of attention of the auto players visiting the three day fair. Talking about the geographical scope and relevance of AES in the automotive industry, Mr Sandeep Dawkhar, General Manager – Robotics, Tooling & System Integration, Tal Manufacturing Solutions Ltd shared: "Automotive Engineering Show (AES) Chennai organised by Messe Frankfurt Trade Fairs India Pvt Ltd offers us the right platform to showcase our technologies in Robotics and Automation. By participating in this show, we want to increase our exposure in the southern market as we endeavour to have a national presence. Since AES is well known in the automotive industry and Chennai has a good proliferation of Automotive OEMs and their suppliers, we are expecting a good footfall from the industry in this show."
Other advancements and new product displays include:
CNC coordinate measuring machines and complete solutions for multidimensional metrology by Carl Zeiss
IO link sensors with easy sensor replacement, that are tamper free and  detect wire breakage by ifm electronic India
Portable arms, Laser Scanning, Xray & CT Inspection, Video Microscope Measuring, Microscope Systems and Large Volume Applications by Nikon
Control equipment for the manufacturing industry by Omron
Power Tools, Fluid & Industrial Lifting & Material Handling products by Ingersoll Rand
Harness Assembly Aid with PULL and HAAP used for critical sub-assemblies and avoiding rework of sensitive wiring harness by Futura Apsol
Xrite Pantone – 3D product design and development by Advanced Graphic Systems
Cobalt Array Imager, a metrology-grade, non-contact scanner that captures millions of high resolution 3D coordinate measurements in seconds by FARO
Precision Screwdrivers, Torque controlled impact wrenches, clutch based screw drivers by Panasonic Powertools
Meter – Mix a new product line designed and developed in India for life – time greasing application in the automotive industry by DOPAG
Software platform for all types of CMM machines and 3D scanners by PolyWorks Sofware
Along with companies displaying the latest advancements and solutions, the Automotive Engineering Show will also host seminars on the 9th and 10th November highlighting the topics Industrie 4.0 and IIoT: Opportunities for Indian Automotive Manufacturing and Surface Engineering in Automotive Industry. Chief guest Tmt. R. Vasuki, IAS and Managing Director, State Industrial Promotion Corporation of Tamil Nadu Limited will talk about the growth of automotive manufacturing sector in Tamil Nadu – Roadmap in line with "Industrie 4.0" on 10th November 2017. Top delegates from the automotive sector will also be seen discussing and sharing insights on global developments in the automotive manufacturing plant and convergence of technology in line with digital manufacturing, IIoT and Industrie 4.0.
With major automotive component and automobile companies having their base in Chennai, Automotive Engineering Show will be an apt platform to network and invest in technologies that will boost the Indian automotive industry.
For further information about the fair, please visit www.aes-show.com
1