Los Angeles, CA – May 8, 2018 –  Today, as Jupiter makes its closest annual approach to Earth, Hiuni – the space education and technology company – is launching its smart interactive telescope for astronomy enthusiasts and newcomers alike. Hiuni's telescope connects to an app to provide an interactive Dual Live View of the night sky, automatically positioning the telescope to the constellations, stars and planets that stargazers select. The "no hands" approach continuously auto-adjusts the smart telescope's alignment based on location and the earth's rotation for optimal viewing. As of today, the Hiuni Telescope is available on Kickstarter for $489, 59% off the planned retail price. Kickstarter backers will be among the first to receive the smart telescope, which is expected to begin shipping early next year.
Hiuni's interactive iOS and Android apps engage both kids and adults with STEM principles and subjects like science and astronomy, igniting curiosity through discovery and exploration. Hiuni has reimagined the telescope by replacing the traditional eyepieces with double image sensors, providing in-app enhanced live views that allows observation with family and friends at the same time. More than just a live view, our tablet app provides additional educational content (video, images, audio), interactivity (discovery, story modes, tours), challenges (badges, mini-games, unlockable content) and more to expand the stargazing experience.
"Everyone remembers that first time they looked through a telescope as a child," said Hiuni Founder and CEO, Jack Chen. "We set out to recreate that feeling for the connected-generation and breathe new technological innovation into a centuries-old invention."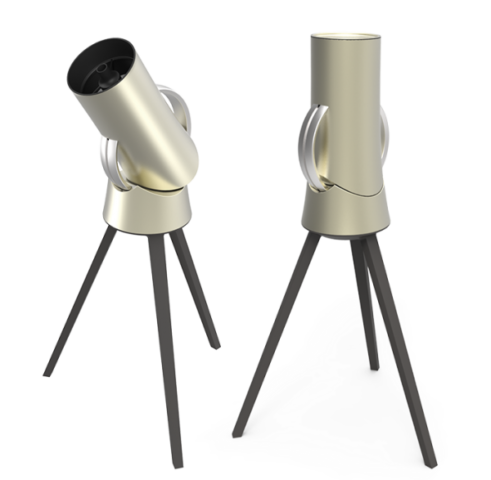 Under the hood, the Hiuni Smart Telescope features an exceptionally sleek Cassegrain design with precision optics, dual-motor GoTo auto-aligning control and, two night-sky optimized images sensors. Specs include:
Computerized Telescope: Interactive App Controlled, Go-To functionality, Celestial Vision Alignment (Platesolving and tracking), Hiuni's Sky Map Database.
Telescope Hardware: Motorized Alt-Az Mount, Dual Aptina MT9M001 Sensors (Space View in Color and Sky View in B&W), 1,280 x 1,024 Resolution, GPS, Accelerometer, Magnetometer.
Main Barrel Optics: Cassegrain Design, 152.4mm Aperture, 280mm Barrel, .27° View Angle, 1,524mm Focal Length, 10 Ratio, 12.8 Stellar Magnitude.
Motorized Telescope: Use its computerized, GoTo auto-aligning feature or control with in-app virtual joystick in the live Sky View.
Smart Features: Plate-solving, Good to See Guide, Image Stacking (Deep Light Imaging), Dual Live View, Share View, Auto Electronic Focuser, One Touch Live View.
Hiuni Interactive Telescope App: Educational content, Interactivity Tours, Challenges, image capture, photo library, events calendar, bookmarking and more.
About Hiuni
Hiuni was formed with the idea to make stargazing easier, more fun and more social. It evolved into reimagining the humble telescope as an interactive and educational tool to bring astronomy to everyone. With the ability to observe objects live through our app, we are introducing a new way to connect with the universe, aiming to bridge the curiosity of the next generation with the passion of the seasoned stargazer.