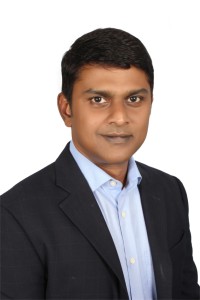 INDIA – April 25, 2016 — Hitachi Data Systems Corporation (HDS), a wholly owned subsidiary of Hitachi, Ltd. (TSE: 6501), today announced the appointment of Raghuram Krishnan as the Director of Partners and Alliances, India. With over 20 years of industry experience, Raghuram has successfully developed and executed channel strategies for some of the leading IT companies in India.
In his current role at Hitachi Data Systems, he will be responsible for working closely with partners, to grow business with existing partners and manage alliance members across markets in India. He will be accountable for identifying and recruiting new partners to help HDS grow in the identified key areas.
"We extend our warm welcome to Raghuram for joining Hitachi Data Systems. Raghuram's vast industry experience and channel knowledge strengthens Hitachi Data Systems' leadership in India as we evolve our channel and alliance strategy for the Indian market. He will help us drive and deliver on our Cloud, Social Innovation and IoT business goals and objectives in the rapidly evolving partner ecosystem in India." said Vivekanand Venugopal – Vice President and General Manager India, Hitachi Data Systems.
Raghuram Krishnan – Director of Partners & Alliances at Hitachi Data Systems India said, "I am delighted to be part of Hitachi Data Systems, which provides best-in-class information technologies, services and solutions across the globe. I look forward to achieving the desired business goals in my new role at HDS."
Prior to joining Hitachi Data Systems, Raghuram worked for Cisco Systems India, IBM, Sun Microsystems and Wipro, with a successful track record  in productive business engagements with partners, service providers and leading system integrators.
About Hitachi Data Systems
Hitachi Data Systems, a wholly owned subsidiary of Hitachi, Ltd., builds information management and Social Innovation solutions that help businesses succeed and societies be safer, healthier and smarter. We focus on big data that offers real value – what we call the Internet of Things that matter. Our IT infrastructure, analytics, content and cloud solutions and services drive strategic management and analysis of the world's data. Only Hitachi Data Systems integrates the best information technology and operational technology from across the Hitachi family of companies to deliver the exceptional insight that business and society need to transform and thrive. Visit us at HDS.com.
About Hitachi, Ltd.
Hitachi, Ltd. (TSE: 6501), headquartered in Tokyo, Japan, delivers innovations that answer society's challenges with our talented team and proven experience in global markets. The company's consolidated revenues for fiscal 2014 (ended March 31, 2015) totaled 9,761 billion yen ($81.3 billion). Hitachi is focusing more than ever on the Social Innovation Business, which includes power & infrastructure systems, information & telecommunication systems, construction machinery, high functional materials & components, automotive systems, healthcare and others. For more information, please visit the company's website at http://www.hitachi.com.