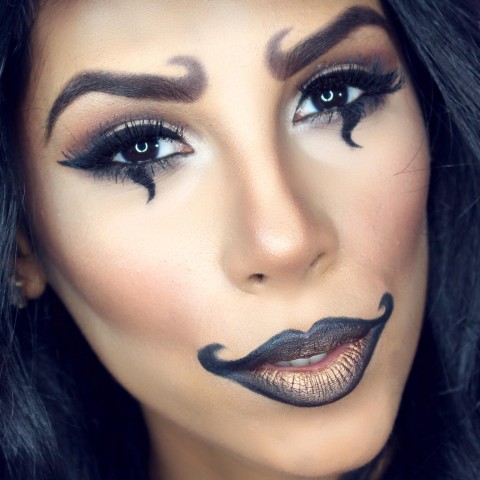 Bodyography's step-by-step guide to achieving Halloween Look
STEP 1:Cleanse and Moisturise face
STEP 2: Take pea size quantity of the Primer on the back of your palm and using the Foundation Brush blend it evenly on the entire face
STEP 3: Take a drop of Concealer and dab onto the under eye to brighten the area. In case of puffiness, the concealer will supress the appearance a little
STEP 4: Take pea size quantity of foundation apply it onto your entire face using the stippling brush. Repeat, in case you need more coverage or for blending evenly
STEP 5: Apply Finish Powder on the hollow of your cheeks and contour giving a sharp cut appearance. Repeat the same technique on the sides of the nose. You may must use the Contour Brush to achieve fine results
STEP 6: Using a concealer brush, apply Eye Mousse over the eyelid to absorb excess oil and leave an even coverage & colour
STEP 7: Apply and blend Eye Shadow in grey, whitish colour as the base on the eyelid, using Eye Shadow Brush. Also, apply it on the lower lash line
STEP 8: Apply lightest pink colour Expression Eye Shadow on the crease and blend evenly with the help of Blending Brush
STEP 9: Using the Eye Shadow Brush, apply Expression Eye Shadow in brown on the brow bone
STEP 10: Apply Eye Liner Duo which is a palette of smokey effect and create wings on the outer V, using the Angled Liner Brush
STEP 11: To give it a Halloween look one may create drama through artistic curves. Use eye pencil in dark blue and create a curve in the centre of the lower lash line for a darker tone. Use Black Eye Pencil to fill in the eye brows and extend the inner ends for a clown curve upwards
STEP 12: Using Dome Smudge Brush, apply and blend eyebrows with shades of brown and nude.
STEP 13: For a finer appearance of the eyes, apply volumising mascara. First the primer and then the mascara
STEP 14: Apply Finish Powder on the entire face to hold the makeup and leave a natural finish. Powder Brush works best to achieve this even finish. Use the outward sweeping technique
STEP 15: Outline lips with Creamy lip Pencil in pinkish beige and draw a border around it with dark blue Eye Pencil. Create curves at the ends for the artistic touch.
STEP 16: Smudge the outline and the border with Smudge Brush for an even finish
STEP 17: Fill in the area of the lips with Brown lipstick and top it up with Eye Shadow in greenish mustard colour.
(Lori worked in fashion as a wardrobe stylist, assisting top celebrity stylists. Her love for beauty and makeup artistry led Lori to attend All About Face Academy in Los Angeles, receiving a certification in Professional Makeup Artistry.)