Mumbai, December 18, 2017: The GVK Lounge at Mumbai's Chhatrapati Shivaji International Airport (CSIA) which is operated by Travel Food Services (TFS) and Performa was bestowed with the 'World's Leading Airport Lounge – First Class' and 'Asia's Leading Airport Lounge' award titles at the prestigious World Travel Awards 2017. The opulent lounge at CSIA was recognized for its luxurious offerings and superlative facilities at the 24th edition of the global awards function held in Vietnam recently.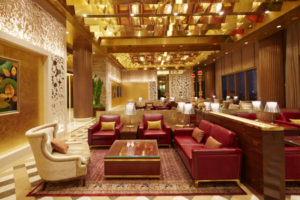 GVK Lounge was felicitated with the most desired accolade in the travel industry for the third consecutive year after a yearlong voting process that witnessed participation from end consumers and qualified executives from the sector. In addition to this, the GVK Lounge added another feather to its cap by being nominated for the World's Leading Airport Lounge – Business Class category for the third time in a row.
Presenting exclusive state-of-the-art amenities, the GVK Lounge strives to evoke a blissful atmosphere that leaves the passengers with a lingering sense of relaxation, comfort and contentment. Among the services rendered, the First-class Lounge offers superlative concierge services, variety of inter-continental cuisines and a world-class spa, to name a few.
By felicitating winners on a global platform, the World Travel Awards reward and celebrate excellence across all key sectors of the travel tourism & hospitality industry. Every year, the renowned World Travel Awards function is attended by the industry's key decision makers, figure heads and trade & consumer media.
About GVK MIAL
 GVK  Mumbai  International Airport  Pvt. Ltd (MIAL)  is  a  Public Private  Partnership  joint  venture  between a GVK-led  consortium(74%)  and the Airports Authority of India (AAI)(26%).  GVK MIAL was awarded the mandate for operating and modernizing Chhatrapati Shivaji International Airport, Mumbai (CSIA). Through this transformational initiative, GVK MIAL has made CSIA one of the world's best airports, which consistently delights customers besides being the pride of Mumbai. The new integrated Terminal 2 at CSIA enhanced the airport's capacity to service over 50 million passengers and one million tons of cargo annually.