Amsterdam, 18 August 2014 – Greenpeace International today joined Greenpeace India's call for Indian authorities to protect democracy and ensure a fair and transparent village council vote in the Mahan forest, over a proposed coal mine development by Essar and Hindalco, where Essar is the majority beneficiary.
The local administration in Mahan has called for a Gram Sabha (village council vote) this month, in order to meet the legal requirement of seeking the forest community's consent to the mine. This will be the second vote after Greenpeace India and the local community members exposed clear indications of corruption involving the forgery of votes at last year's Gram Sabha. (1)
In the run-up to the vote, the forest community's rights have been violated in a systematic clampdown including the intimidation of villagers. This has been accompanied by the seizure of Greenpeace India's communication equipment and the arrests of its activists. (2)
"The Mahan coal mine is not only placing the climate at risk, but will also destroy the livelihoods of thousands of people who depend on the Mahan forest for survival. The ongoing crackdown against forest rights activists will not deter our resolve but only makes us more determined to save the Mahan forest," Greenpeace India's Priya Pillai said.
"If we Indians want to showcase our country as a model of inclusive development and democracy, the intimidation of villagers and any attempts to hold this vote behind closed doors must end now. We call for the government to recognise the rights of the community and hold a fair and transparent vote, not only in one village, but in all the 54 villages that depend on the Mahan forest."
Mahan, in Madhya Pradesh, is one of the last remaining patches of dense, unfragmented forest in central India. It is home to tribal populations as well as endangered wildlife and affected species would include sloth bears, elephants, leopards, peacocks  and tigers.
Greenpeace India has supported the local communities for three years in their opposition to the mine and is now facing a Rs 500 crores (about 61.4 million euros) SLAPP suit (strategic litigation against public participation) brought by Essar. (3) This is an attempt to silence all criticism of the project. No lawsuit, however, can hide the destructive nature of Essar's coal mine. Clearing Mahan will pave the way for the surrounding forests to also be axed for profits.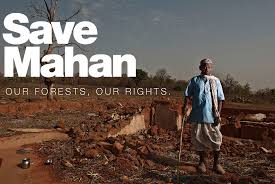 Greeenpeace International Executive Director Kumi Naidoo said:
"This coal mine is a recipe for environmental and human disaster. Greenpeace stands with the community in Mahan, to protect their rights, the forest and the climate. Governments must listen to people as stewards of their natural resources or keep organisations supporting these communities out. We demand a fair and transparent process, in which the community's voices can be genuinely expressed and respected."
Greenpeace India was recently singled out in two 'leaked' reports from the Indian Intelligence Bureau, attacking its opposition to coal and nuclear power, and its international role.
"Greenpeace India receives some amount of its overall budget through global funding to combat a global problem. Instead of criticising civil society for raising the alarm on climate change and destructive fossil fuel projects, the Indian government should instead adopt cleaner and greener energy solutions that can bring light to the 300 million Indians who still lack electricity. Saving the Mahan forest can still be remembered as India's turning point. It's not too late," Naidoo added.