'The Great Khali Gym & Fitness Club' launched at Franchise India 2016 in New Delhi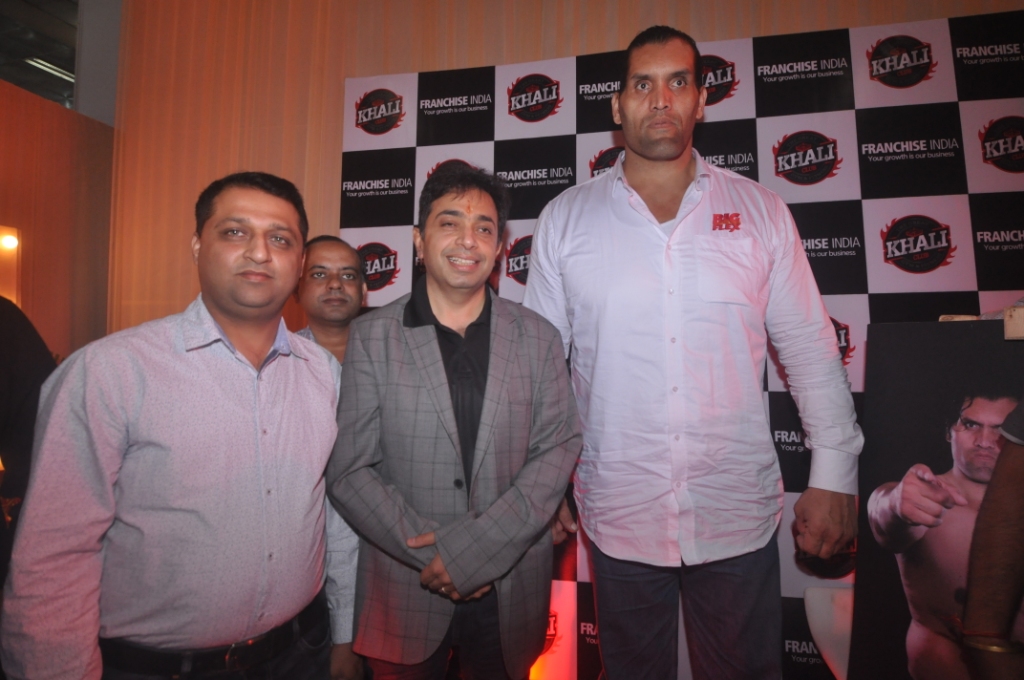 New Delhi, October 15, 2016: Former WWE World Heavyweight Champion, 'The Great Khali' today announced his entry into India's rapidly growing fitness industry with the launch of The Great Khali Gym & Fitness Club, an exclusive chain of luxury gym and fitness centres.
The new entity was launched at the Franchise India 2016 show being held in the National Capital. Dalip Singh Rana or 'The Great Khali' has partnered with Franchise India in its endeavor to expand his chain's footprint across the country.
The Great Khali Gym & Fitness Club has been conceived as a large format gym in three models (Compact, Classic & Club) – requiring 3500, 5500 and 8000 sq feet areas respectively. The investment needed for a franchise ranges from Rs 1.4 crore to Rs 2.2 crore depending upon the model of the fitness centre. The centre will also have interesting unique features such as a Wrestling ring, lounge, a kids area, apart from the regular gym features such as spas, Jacuzzis and sweat rooms. It will also have a gallery dedicated to the exploits of Khali.
The brand aims to expand its presence across the country, with the initial target of setting up 50 gyms in one year. The venture is looking for interested franchise partners across the country.
"The Great Khali Gym and Fitness Club aims to establish itself as a unique player in the crowded Indian fitness industry. We desire to present gymnasiums as family friendly places by incorporating dedicated kids and lounge areas. The gym will also incorporate elements of wrestling to appeal to my fans,"
said Khali.
"Khali is a brand in himself and has a large dedicated following in India. We are very happy to be associated with his entrepreneurial venture and we are sure it will gain a strong foothold among fitness lovers across the country," said Mr. Gaurav Marya, Chairman, Franchise India.
The first gym is being planned in Jaipur while the second one will be opened in Delhi.
"Fitness is a rapidly growing industry across India with gym and fitness chains establishing their presence even in Tier II and Tier III cites. The Great Khali gym and fitness Club is a unique effort to widen the appeal of gymnasiums and fitness centers in the country. The concept is to offer fitness and sporting facilities to not just adults but also children. We are proud to be associated with this venture," said Mrs. Sonia Virdhi & Mr. Manish Nagpal, Directors of Raag Riaz International, a partner in the endeavor.
Franchise India is a two-day international exhibition, which provides a one-of-its-kind platform for businesses, investors and potential franchisees to interact with each other and scout for expansion opportunities, is being held at Pragati Maidan.
About Franchise India
Franchise India is Asia's largest integrated Franchise and Retail Solution provider established in the year 1999, with an absolute authority on Franchising, Retailing and Licensing in India.
Founded and led by Mr. Gaurav Marya, Chairman, the company is a leading business brokerage, which facilitates buying and selling of businesses across Nation.
Franchise India has wide experience in franchise development, business expansion, corporate advisory services, consultancy, multi-brand integration, financial and operational expertise and marketing. The company provides a structure to develop, grow and expand various business models and is built around the idea of profitable and sustainable growth through partnering.
With a team of 900 professionals, 40 offices and outreach in 300 towns and cities, the Group has touched more than 15 million individual entrepreneurs, impacting more than 2,50,000 businesses. The company has more than 2,500 brands spread across various industries such as retail, fashion, heath, beauty, wellness, education, real estate, and so on.
Franchise India has other companies in the Group – Francorp, Franglobal and Bradford.
Francorp is the knowledge arm which creates a business model for the brands to go for a scalable franchise model.
Franglobal is the consulting arm of franchise India which helps the international brands expanding in India through franchise channel.
Bradford Licensing is a leading licensing firm in the world which represents some extremely iconic brands in multiple licensing genres, giving an end to end licensing solutions in this territory.