The Independent Seconds was at its peak in the 18th century. Jaquet Droz pays tribute to this complication with this revised version of its iconic model, equipped with a new caliber.
A masterpiece of watchmaking precision, the Independent (or "Deadbeat") Seconds is a very rare complication created during the Age of Enlightenment, at a time when Pierre Jaquet-Droz was crisscrossing Europe to present his timepieces at the royal courts of a continent in an intellectual fever. This new technique meant that the direct-drive seconds hand no longer advanced in a linear fashion, but rather made a small jump every second, giving extremely accurate measurements that were soon to lead to the birth of the chronograph.
Long forgotten, this little miracle of watchmaking has now been rediscovered by Jaquet Droz, as the watchmaker continues to revisit the great successes of its past to propose new watch models to a select circle of well-informed watch connoisseurs. By choosing to apply this historical technique to the Grande Seconde, one of its iconic models, the Brand remains faithful to its true identity: respect for tradition, a keenness to take on a new challenge, technical virtuosity – and a constant willingness to reinvent itself.
For this new model the dial of the Grande Seconde has been subtly reworked by the designers of brand known by its twin stars. Off-centered in the historic version, the seconds hand is now placed at the very heart of the dial, while the retrograde date indication occupies the space that is traditionally reserved for the seconds hand in this model. Immediately recognizable yet somehow different, both familiar and surprising, this Grande Seconde Deadbeat watch fascinates by its hypnotizing succession of "jumping" hands and numerals.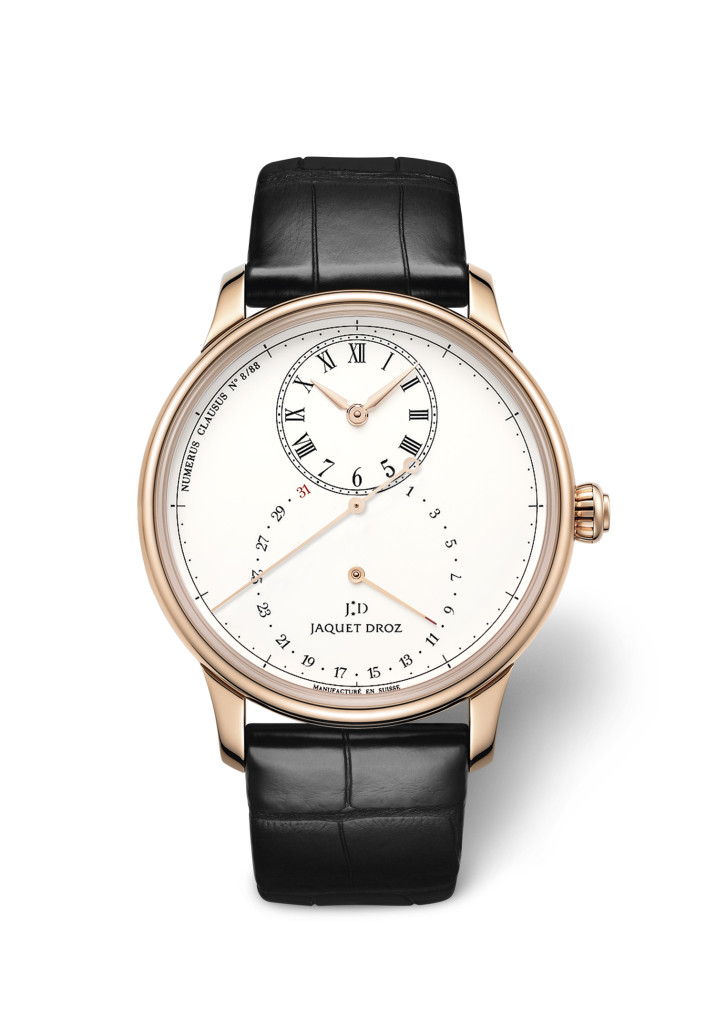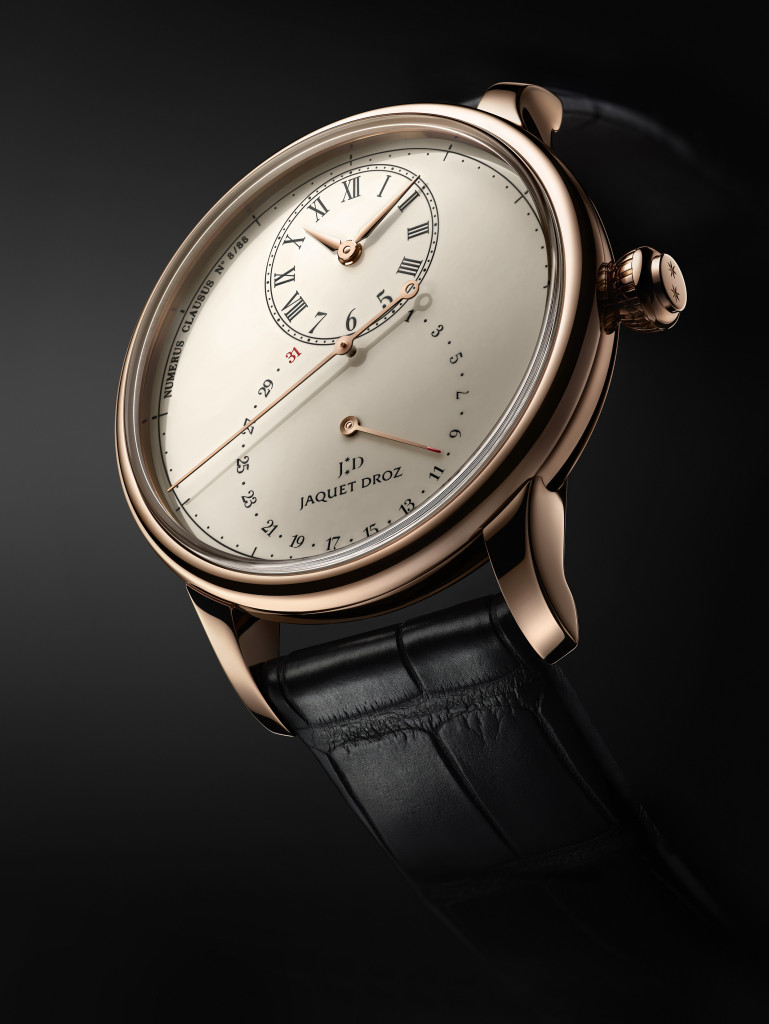 This new timepiece also provides Jaquet Droz with the opportunity to pull off a double technological exploit. After a first experience with the Grande Seconde Quantième Ivory Enamel watch in 2014, our craftsmen at La Chaux-de-Fonds have again used a balance-spring made of silicon, a material that is unaffected by magneticfields or changes in temperature and pressure, and thus ensures exceptionally accurate timekeeping. The
need to combine Independent Seconds, Calendar and Hour and Minute functions has led to the creation of a totally new caliber for which a patent has been applied for.
The mechanical components have been obtained thanks to the Swatch Group's expertise in nanotechnology processes (particularly the LIGA process), which has led to the production of parts of an extremely high standard of precision. Finally, the choice of a 10-toothed cam rather than the 30-toothed variety normally used for an Independent Seconds function, together with the optimization of the shape of the pallets, combine to make the Independent Seconds a spectacle that is as aesthetically elegant as it is technically ingenious.
Lovers of high precision watches are sure to fall under the spell of this Grande Seconde Deadbeat watch model.
For more information, please contact www.jaquet-droz.com