Panel discussion at Abu Dhabi's Global Forum for Innovations in Agriculture to tackle water for food security issue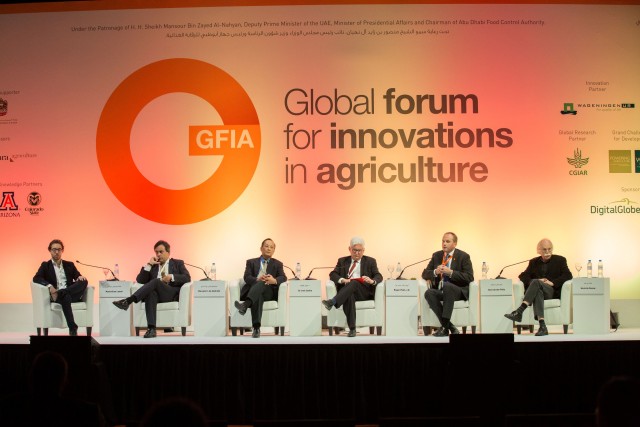 Abu Dhabi, 27 January 2016: The 'golden triangle' of government bodies, the scientific world, and the private sector working together is the only way to combat the impending crisis of water scarcity and its threat to food production.
Leo den Hartog, Director of Research and Development at Nutreco (Trouw Nutrition) and Professor of Wageningen University, summed up the opinions of many global sustainability experts when asked about solutions to the world's water shortages.
"Science should work on new technologies in this field, the private sector should take initiatives to get it realised and the government should support financially, by creating the platforms and by adjusting legislation when needed," he said.
His comments come ahead of the Global Forum for Innovations in Agriculture (GFIA), an event that Abu Dhabi is preparing to host under the patronage of H.H. Sheikh Mansour Bin Zayed Al Nahyan, Deputy Prime Minister of the UAE, Minister of Presidential Affairs and Chairman of Abu Dhabi Food Control Authority, and in strategic partnership with ADFCA.
Taking place at the Abu Dhabi National Exhibition Centre (ADNEC) from 16-17 February, the exhibition and conference is aimed at harnessing global efforts to provide enough safe, nutritious food to an expanding population and will feature more than 300 next-generation agricultural solutions that could shape the future of sustainable farming around the world.
Ali Yousef Al Saad, Acting Director of Communication and Community Service at Abu Dhabi Food Control Authority said: "Our support for this important forum comes within the framework of ADFCA's goals of achieving its objectives of sustainable development by supporting all initiatives that seek to tackle the current and future water challenges in Abu Dhabi and enhancing the concept of sustainable water resources."
On the second day of the forum, 17 February, a collection of experts will come together to specifically tackle 'Water for Food Security: from scarcity to sustainability through collective innovation'. The session will ask what collective action must be taken to ensure that agriculture adapts its method in response to water scarcity.
It is estimated that two-thirds of the world's population could be under serious conditions of water stress by 2025 and climate change is expected to further exacerbate the problem.  Water scarcity poses a real threat to food production as agriculture consumes approximately 70% of the world water supplies.
Delegates attending the forum will hear from HE Eng Abdullah Al-Rubaian, Chairman of ARASCO, HE Ambassador Shahira Wahbi, Chief Sustainable Development & International Cooperation of the League of Arab States, Anil Jain, Managing Director of Jain Irrigation Systems Ltd, Dr Ismahane Elouafi, Director General of International Centre for Biosaline Agriculture and Timothy Prewitt, CEO of iDE.
The second day of the forum will feature a session by Rajesh Solomon Paul, Director of Excel Geomatics Pvt, entitled, 'Satellite based crop monitoring'.
He believes there are myriad ways to implement changes in the way water is used in food production.  "Land capability mapping, land sustainability studies, appropriate crop identification for cultivation, water budgeting, rain-water harvesting, the development of crop varieties that can thrive on minimum water requirements and lining of canals are a few of the areas government, private sector and scientists can work together to reduce water scarcity issues," he said.
"Educating farmers about the importance of the efficient use of water and the problems associated to over-drafting water could also help significantly."
Together, GFIA and VIV MEA are expected to host more than 500 exhibitors of innovative technology, making Abu Dhabi home to the largest agricultural event in the region.  The organisers also expect to build upon last year's 4,550 visitors from 85 countries.
GFIA is sponsored by the UAE Ministry of Presidential Affairs, Khalifa International Award for Date Palm & Agricultural Innovation, Abu Dhabi Farmers Services Centre, Emirates Food Industries, Koppert Biological Systems, AGCO, GODAN and CoolFarm and staged with the support of Masdar Institute, University of Arizona, Kingdom of The Netherlands, Clinton Climate Initiative, CTA, GlobalG.A.P, CGIAR, SAI Platform, Wageningen UR and the Abu Dhabi Convention Bureau
2