June 06, 2017:  Godrej & Boyce is proud to announce that its flagship engineering business unit Godrej Aerospace (GA) has played a key role in the development of the GSLV Mk III successfully launched by ISRO today. In this giant leap for Indian space technology, the nation is now completely self-sufficient in launching heavier class satellites, in this case 4-tonne, while earlier it was 2.4 tonne.
The indigenously developed cryogenic engine CE-20 powers the upper stage of GSLV Mk III.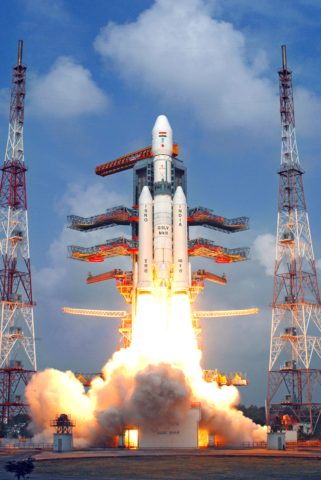 GA made critical components and equipment for both the rocket and the satellite (GSAT-19). For the Rocket, GA manufactured the first stage Vikas Engine and the indigenously developed third stage Cryogenic Engine Thrust Chamber. For the Satellite, the LAM (Liquid Apogee Motor) engine injectors and thrusters were manufactured by GA.
On the achievement, Mr. Jamshyd N Godrej, CMD, Godrej & Boyce said, "My congratulations to ISRO for the successful launch of India's next generation satellite launch vehicle.  With 100% propulsion systems designed and developed indigenously, as a nation, we are rapidly progressing towards complete self-sustenance in space technology. Godrej is honoured to partner with ISRO in the development and manufacture of critical equipment.  It is a matter of immense personal satisfaction that Godrej is contributing to the momentum of India's space programme".
Mr. Kaustubh Shukla, Chief Operating Officer, Industrial Products Group, Godrej & Boyce said, "This is a proud moment for India. I congratulate ISRO and its entire team for propelling our country to yet another milestone in its space programme. We have been proud industry partners since three decades and privileged to be part of several breakthrough missions. Today's outstanding achievement is further proof of the capability of the country's space programme and Godrej is proud to make this contribution to the nation's moment of glory."
"This momentous achievement is a major milestone for us at Godrej Aerospace as well. We have come a long way since 1993 when we had just begun to familiarize ourselves with cryogenic engines. And today we have contributed to the successful launch of ISRO's GSLV Mk III that is powered by this extremely critical technology", said Mr S M Vaidya, EVP & Business Head, Godrej Aerospace.
Godrej Aerospace has been associated with ISRO since 1985, working with them on complex systems such as liquid propulsion engines for PSLV and GSLV rockets, thrusters for satellites and antenna systems. The company was also an integral part of the prestigious Chandrayaan and Mangalyaan missions.
As the nation moves towards becoming self-sufficient in all respects, we at Godrej & Boyce are proud to be contributing to this lofty ambition.
About Godrej & Boyce:
Godrej & Boyce, a Godrej Group Company, operates across 14 diverse businesses. Founded in 1897, the company started with the manufacture of high quality locks. It has since diversified into Consumer Goods, Office and Industrial Products & Services, Infrastructure & Real Estate. Headquartered in Mumbai, Godrej & Boyce specializes in and is a market leader in Appliances, Furniture & Interiors, Security Solutions, Locking Solutions, AV solutions, Vending, Material Handling, Industrial Logistics, Aerospace, Nuclear Power, Defense, Toolings solutions for Auto industry, Process Equipment, Power Infrastructure, Real Estate and Green Building Consulting. Godrej is one of India's most trusted brands serving over 1.1bn customers worldwide, every day.