Pace of funding largely unchanged for last five quarters
BANGALORE – April 23, 2013 – Mercom Capital Group, llc, a global clean energy communications and consulting firm, released its report on funding and mergers and acquisitions (M&A) activity for the smart grid sector during the first quarter of 2013.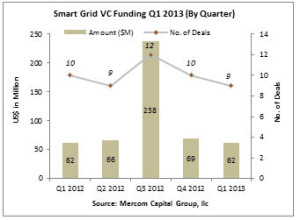 Smart grid venture capital (VC) funding in Q1 2013, totaled $62 million in nine deals. The quarter's funding was nearly identical to the first quarter of 2012, when the same amount was raised by smart grid companies but in 10 deals instead of nine. With the lone exception of home security and automation company, Alarm.com's $136 million raise in Q3 2012, the pace of funding has remained largely unchanged for the past five quarters.
"After peaking in Q2 2010, VC investments in smart grid have slowed down considerably, and continue to amble along with no clear direction," commented Raj Prabhu, CEO of Mercom Capital Group. "Silver Spring Networks' long awaited IPO was the lone highlight in an otherwise slow quarter."
The Top 5 VC deals in Q1 2013 raised a combined $52 million. The top two VC deals each raised $15 million. Cylance, a provider of cyber security products for the infrastructure industry, raised $15 million from Khosla Ventures and Fairhaven Capital in a Series A round, and Sentient Energy, a developer of advanced grid monitoring solutions that consist of modular intelligent monitoring devices and software applications, raised $15 million in an undisclosed round from Foundation Capital. That was followed by the $11.3 million raise by Utility Funding from Foresight Group; $5.8 million raised by Xtreme Power by a group of investors including SAIL Capital Partners, Bessemer Venture Partners, Dow Chemical, Fluor, Dominion Power, Spring Ventures, BP, and Posco; and $4.8 million raised by Smarter Grid Solutions from Scottish Equity Partners, Scottish Investment Bank and the University of Strathclyde.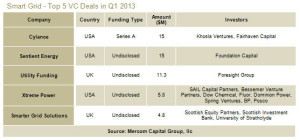 There were only four M&A transactions in Q1 2013. One of the transactions; Toshiba Corporation's acquisition of privately-held energy management company Consert, was disclosed for a total of $11 million. Last quarter, $22 million in M&A activity was disclosed in the same number of transactions.
Despite a rather slow quarter, the smart grid sector saw a rare IPO. Silver Spring Networks, a provider of smart grid products and services to utilities, raised $81 million by offering 4.75 million shares at $17.
To learn more about the report, visit: Smart Grid Q1 2013 Funding and M&A Report
About Mercom Capital Group
Mercom Capital Group, llc, is a global communications and consulting firm focused exclusively on clean energy and financial communications. Mercom's consulting division advises cleantech companies on strategies for strategic decision making and new market entry and provides custom market research. Mercom's consulting division also delivers highly respected industry market intelligence reports covering Solar Energy, Wind Energy and Smart Grid. Our reports provide timely industry happenings and ahead-of-the-curve analysis specifically for C-level decision making. Mercom's communications division helps clean energy companies and financial institutions build powerful relationships with media, analysts, government decision makers, local communities and strategic partners. For more information about Mercom Capital Group, visit: http://www.mercomcapital.com.