'World's First 24 Hours Tea Party'
New Delhi:
Sri Lanka's tea industry , under the world renowned brand "Ceylon Tea", celebrated its completion of 150 years with a unique global 24 hour tea party on 6th July at 5:00 PM in every time zone from east to west across the world.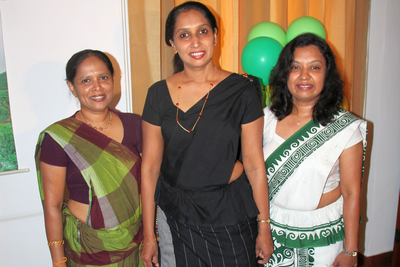 In Delhi Sri Lankan High Commissioner H.E. Mrs. Chitraganee Wagiswara hosted the do at the Sri Lankan High Commission. From 'The South Asian Association For Gastronomy', S.A.A.G, Maneesh Baheti & Sonali Anand and their invitees were present in full strength to be a part of this historic event.
The chief guest for the occasion was Ms. Rita A. Teaotia, Secretary, Department of Commerce, Ministry of Commerce & Industry. Others present at the soiree included H.E. Mr. Deep Kumar Upadhyay, Ambassador Of Nepal; H.E. Maj. Gen. Vetsop Namgyel, Ambassador of Bhutan; Mr. R. K. Lenagala, Sri Lankan Deputy High Commissioner; Nirmala Paranavitana, Ayona Dissanayake, Pushpika Rathnayake, Kumudini Damyanthie amongst many others.
The evening witnessed serving of some fine Ceylon Teas and a specially created biscuit for the occasion by Maliban Biscuit Manufactories, the oldest biscuit manufacturer in Sri Lanka.