Mumbai, 6th January 2017: The Gem & Jewellery Export Promotion Council organized a seminar in Mumbai on 5th January 2017 to create awareness about the benefits of cashless transaction, income tax compliances, as well as on doing business in an organized manner. The seminar was, especially organized for the non-members of the Council who are doing business in an unorganized manner, but have played a significant role by contributing to the success of the "Make in India" initiative.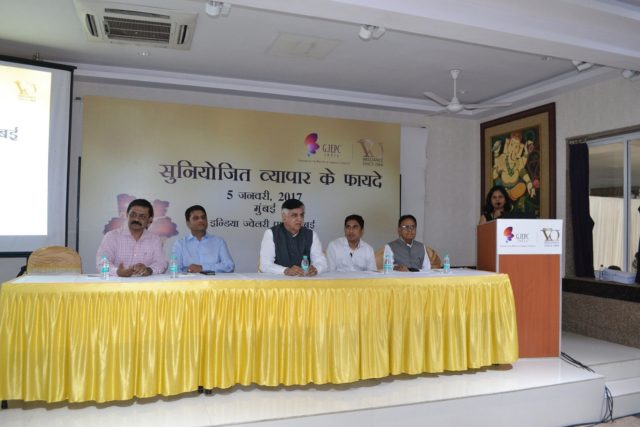 Speaking about the seminar, Shri said, "It is important that every sector in India take initiative to align themselves with the Hon'ble Prime Minister Narendra Modi's vision of making India a cashless economy. The seminar was an effort to make our industry, especially people from the unorganized sector, understand the benefits of cashless transaction and schemes available for this sector".
Ms. Meenakshi Krishnamurthi, Regional officer, SBI and Mr. Parekh Paleja, Relationship Manager, SBI gave a presentation on cashless transaction as well as SME policies.  Indian Jewellery Park is an upcoming project, where the Council will provide world-class facility. Shri Paveenshankar Pandya, Chairman, GJEPC briefed audience about the Indian Jewellery Park project and the format of execution of this project.  The audience were also made aware of the Council CSR polices like Swasthya Ratna and Parichay Card by Mr. Sabyasachi Ray, Executive Director, GJEPC.  Ms. Heena Gandhi from V. A. Parikh & Associates LLP, educated the attendees about the income tax compliances as well as addressed their queries.
The Seminar was Moderated by Dr. Jitarani Udgata and Concluded by Mr. Mansukh Kothari, Co Convener Gold panel.
About GJEPC
The Gem & Jewellery Export Promotion Council (GJEPC) was set up by the Ministry of Commerce and industry, Government of India (GoI) in 1966. It was one of several Export Promotion Councils (EPCs) launched by the Indian Government, to boost the country's export thrust, when India's post-Independence economy began making forays in the international markets. Since 1998, the GJEPC has been granted autonomous status. The GJEPC is the apex body of the gems & jewellery industry and today it represents over 6,000 exporters in the sector. With headquarters in Mumbai, the GJEPC has Regional Offices in New Delhi, Kolkata, Chennai, Surat and Jaipur, all of which are major centers for the industry. It thus has a wide reach and is able to have a closer interaction with members to serve them in a direct and more meaningful manner. Over the past decades, the GJEPC has emerged as one of the most active EPCs, and has continuously strived to expand its reach and depth in its promotional activities as well as widen and increase services to its members.