[ Bangalore, India] April 12th, 2017 GIGABYTE India is pleased to anounce a special gaming event to professionals gamers and to see the latest unique gaming products and systems.
To provide extraordinary gaming experience and service for all the gamers in India, GIGABYT launched "AORUS BATTLE GROUND" e-Sports event, besides the 1st start new gaming event lanuched on April 7th in Bangalore, GIGABYTE will also bring you the world-class gaming e-Sports in other 10 cities of India in next whole coming seasons, the Indian Grand Final event will be run in end of 2017 for all India gamers to win highest prizes. To become India No.1 Gamer. Let's TEAM UP. FIGHT ON.
Gigabyte AORUS commits to offer the most extreme gaming experiences in AMD Ryzen
The new AORUS series Motherboards will be built with support for Ryzen, all boards support RGB LEDs, and high-performance AMD AM4 CPU coolers with built-in LEDs. GIGABYTE's AM4 socket X370, B350 motherboards not only offer great performance and attractive prices, match all your needs, with unique features and a full range of products for gamers, power users, tech geeks and even DIY beginners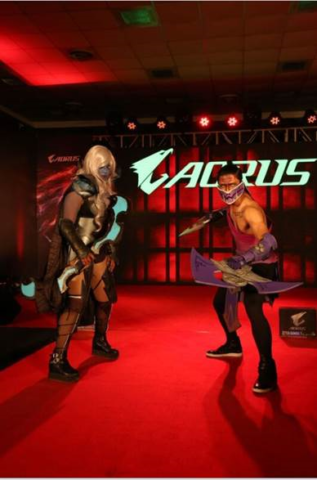 "AORUS BATTLE GROUND" Start from Bangalore with DOTA2
Showing the extreme performance of the hottest gaming gears! GIGABYTE welcomes everyone to experience the best gaming motherboards with the India leading gamers!
The first run gaming event start on 7th April for 2 days in Bangalore, a 10-gaming teams over hundred attendees including gamers & channel partners in this e-Sports event. The top two teams advance to finals on 8th April, congrats the 1st place winner team of Go Figure Red to wined INR50000 prize and 2nd place team of Milkydots also got INR30000 prize from GIGABYTE India.
About GIGABYTE
GIGABYTE, headquartered in Taipei, Taiwan, is known as a global leading brand in the IT industry, with employees and business channels in almost every country. Founded in 1986, GIGABYTE started as a research and development team and has since taken the lead in the world's motherboard and graphics card markets. On top of Motherboards and Graphics cards, GIGABYTE further expanded its product portfolio to include PC Components, PC Peripherals, Laptops, Desktop PCs, Network Communications, Servers and Mobile Phones to serve each facet of the digital life in the home and office. Everyday GIGABYTE aims to "Upgrade Your Life" with innovative technology, exceptional quality, and unmatched customer service. Visit www.GIGABYTE.com for more information.