Everdata Technologies, one of the world's fastest growing Web Hosting, Data Center and Domain registrar company has come with an eminent plan for all the business seekers out there, providing Domain registration and Web Hosting services at Rs.148 only. The plan has been proposed to provide businesses with a professional outlook which include Rs.99 Hosting Plan + Rs.49 .Online Domain.This user-friendly program is available for both platforms – Linux and Windows. 
The group holds a goodwill in the hosting industry due to its innovative outlook, premium support and proven capabilities. Everdata's Web Hosting plan comes with a free site builder, allowing you to take the benefit of zero-coding site building tools, so you can create your own site without any external help and also be able to make any changes in the future if desired. The unique feature of this site builder helps you to create lovely awesome websites with a fully professional appeal. The plans are offered on latest CentOS or Red Hat enterprise servers with strong monitoring system and 24x7x365 available support for ultimate security & reliability of your website and online business.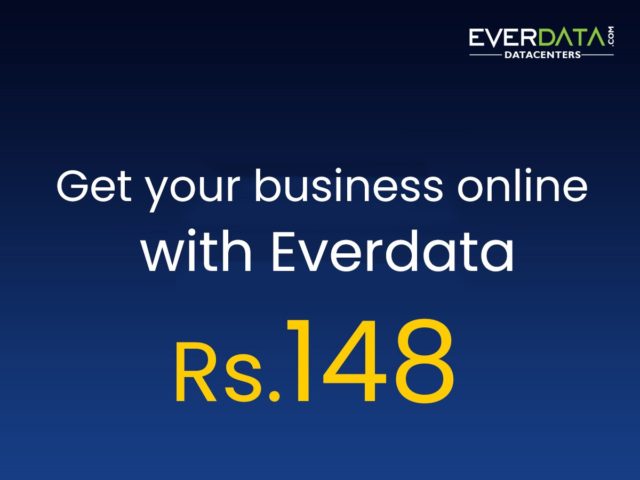 Key Features
●     5 GB Webspace
●     Unlimited Bandwidth
●     1 Domain Hosting
●     10 eMail Accounts
Whatever your business, Everdata has the best suitable hosting plan for your requirements. For heavy businesses, the company has affordable and reliable Dedicated Server Hosting with guaranteed 99.98% uptime and 24/7 support staff, so you never need to worry about the speed and access. For a purpose-specific configuration and individual resources, one can opt to VPS Hosting which offers high speed, best security, and stable performance. For more details, visit https://www.everdata.com
About Everdata
Everdata is a leading Web Hosting, Data Center, Cloud solution provider, Domain Registrar and IPV6 consulting company in the world that is focused on meeting the rapidly growing data demands and complete suite of products that help our customers establish & grow their online presence.
Everdata has widened their footprint by starting a number of data centers across different nations like Germany, France and US. Everdata solutions also include public and private cloud, VPS and dedicated servers, shared hosting and colocation that is low cost, fast, secure, and reliable with guaranteed 99.98% uptime, disaster recovery, and business continuity.
For more information about us, visit https://www.everdata.com and follow us on twitter @Everdata_Tech.